For this project, we ask you what you want us to investigate and what stories you'd like us to tell.
Our Most Popular ATXplained Stories Of 2017
We started our crowdsourced reporting project, ATXplained, two years ago to find out what stories you wanted us to cover.
The premise is simple: You ask the questions, we collect them and put them up for a public vote to determine which ones get investigated.
This year, we received 280 questions and thousands of votes. The questions ranged from the origins of Convict Hill to why Hippie Hollow is clothing-optional.
Here are the 10 most popular ATXplained stories from the year.
Candace Bunkley wanted to know about the giant metal flower that moved to Patterson Park from the Elisabet Ney Museum in Hyde Park earlier this year.
"Where the statue was, I would see it on my way to work, on my way to the grocery store, when I was going out to a restaurant, when I was meeting friends," she said. But sometimes the petals on the metal flower are open; sometimes they are closed. She became obsessed with finding out why.
Matt Largey tracked down the artist to get an answer.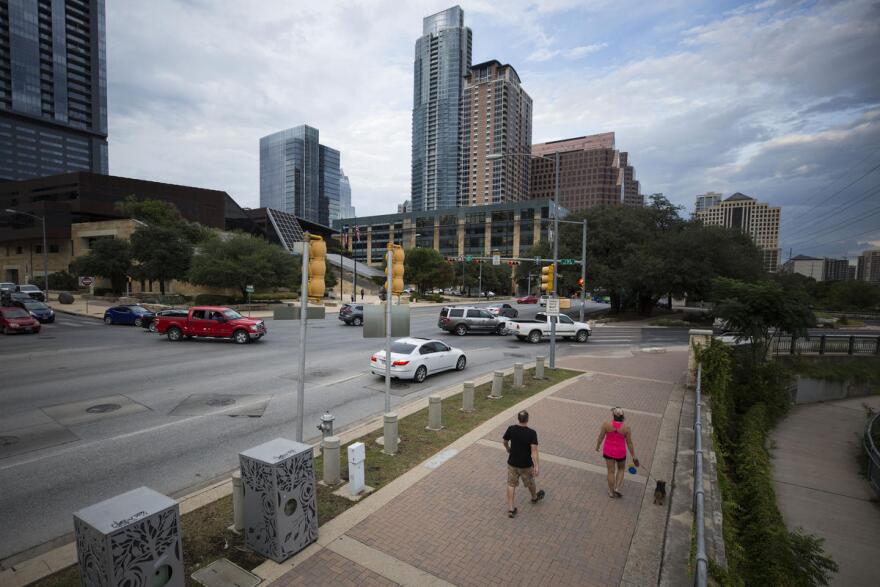 Jessica Wang was really confused when she got her driver's license and drove south through town.
"For some reason, I just had assumed that it was Third, Second, First and then Cesar Chavez, and I didn't even know what I thought the First Street Bridge was," she said. "I got lost a couple of times before I figured it out, and then, I was like, 'Why is this? It makes no sense!'"
Nadia Hamdan set out to figure out why Cesar Chavez is where First logically should be and why South First is perpendicular to other numbered streets to the north.
As Austin's city limits have expanded, Rollingwood, Sunset Valley and West Lake Hills have managed to maintain their independence.
Javier Palomares wanted to know why. Is it wealth?
"Particularly in the case of West Lake Hills, since I imagine that it's a rather very wealthy community, they have much more political influence than other parts of the Austin metro did," he said.
Audrey McGlinchey discovered wealth does play a role, but that's not all.
7. Sign, sign, everywhere a sign
Gordon Lang saw so many homemade "no parking" signs in Clarksville that after a while he wondered if they were legal.
Can you reserve private spots on the street, which he assumed was city property?
Claire McInerny went knocking on doors to ask about them.
Laura Bauman wanted to know about the blue panels on either side of the Lamar underpass.
"[It] looks like somebody just cut up some old highway signs and it's a practical joke," she said.
Matt Largey discovered they are an art installation – a much maligned one.
"What's the story behind those homemade real estate signs?" Jennifer Kolk asked. "Who's looking to buy up these houses, and what actually happens when someone calls their number?"
Syeda Hasan called a few numbers to find out.
The proliferation of mattress stores in Austin got Vannezsa Smith and other listeners wondering: What's up with Austin's mattress store glut?
Jimmy Maas learned that there are more than 200 stores where you can buy a mattress around Austin – and that doesn't include online options. 
Jodi McLaughlin said she travels on MoPac-Loop 1 almost every day, and one thing she's noticed is it's not really a loop. "Will it ever be?" she asked.
Jimmy Maas set out to find out what engineers had in mind for the highway back in the 1960s.
Convict Hill has seized the imagination of many an Austinite, including Valerie Nelson, who asked about it for ATXplained.
"What are the origins of Convict Hill?" she asked. "Were there convicts there?"
Audrey McGlinchy discovered it has a lot to do with the state's use of convict labor during the construction of the Texas State Capitol.
Thousands of people visit Hippie Hollow every year – and not all of them wear bathing suits. But this is public property, so is that legal?
Matt Largey stopped by during the Hill Country Nudists' annual Big Nude Day to get to the bottom of it.  
_________
Keep those questions coming in 2018! And subscribe to the ATXplained podcast on iTunes, on Google Play or your favorite podcast app.