World War II Veteran Richard Overton Is Buried With Full Military Honors At Texas State Cemetery
"Richard Overton is a Texas legend," Gov. Greg Abbott said Saturday at the funeral for the World War II veteran. Overton died last month at 112.
At the service at Shoreline Church in North Austin, Abbott said what stood out to him most about Overton was "the humility and grace in which he lived."
He also said Overton once challenged him to a wheelchair race, garnering laughs from the packed church.
Abbott presented Overton's cousin, Volma Overton Jr., with a flag that was flown above the state Capitol in the veteran's honor.
Speaking on behalf of the family, Overton Jr., a civil rights activist, earlier remarked that his cousin was loved by so many.
"Richard had a special gift of sharing his unconditional love with everyone and that gift of love came back to him tenfold," he said.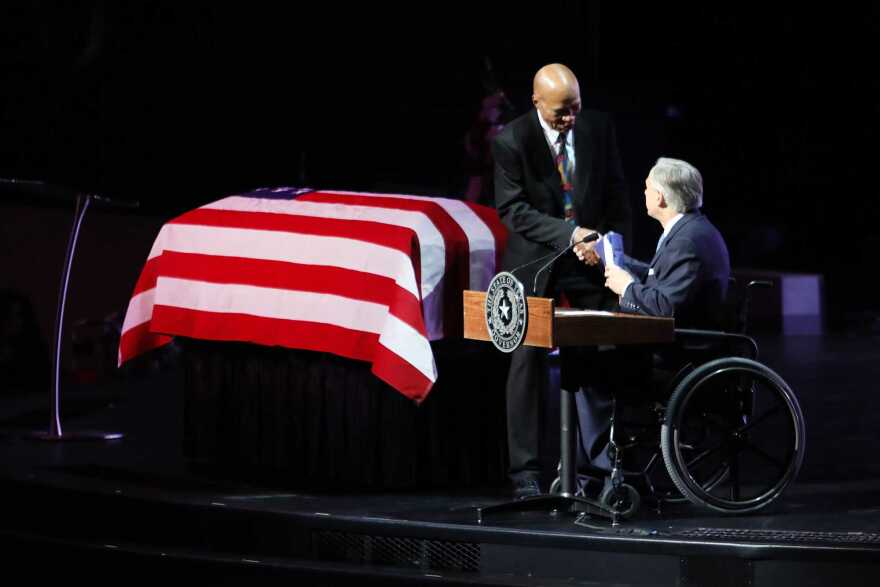 The room of about 2,000 people applauded as Gen. John Murray of the U.S. Army Futures Command talked of the struggles Overton faced in his segregated African-American unit and the racism he encountered when he came home.
Overton overcame "discrimination through professionalism and demonstrated excellence to ultimately right injustices –both in uniform and in our society," he said.
Murray said he never got to know Overton and that's something he would always regret.
KUT's Nadia Hamdan reports that the service closed out with bagpipes playing "Amazing Grace."
The service was followed by a funeral procession down I-35 to Texas State Cemetery, where Overton was buried with full military honors, including a flyover of four Apache helicopters and a 21-gun salute.
I can't help but notice that the family and friends left surrounding Overton's gravesite resemble the many large gatherings we've seen at his Austin home over the years. It's a true celebration of life; plenty of smiles, hugs and laughter to go around. pic.twitter.com/Gm8RoCwqWN

— Nadia Hamdan | نادية حمدان (@nadzhamz) January 12, 2019
At a visitation Friday at Cook Walden Funeral Home, Brenda King said Overton had an outstanding life.
"I don't think we can give him enough homage for what he did for this country as a serviceman – and that goes for all servicemen," said King, who attends church with members of Overton's family.
A bottle of Maker's Mark bourbon was tucked under Overton's arm and a cigar placed in his suit pocket. Overton, who liked to smoke a cigar on the porch of his East Austin home, was often brought whiskey for his birthday celebrations.
Overton enlisted in the Army in 1940 and served in the Pacific Theater through the end of the war. He was part of an all-black engineer aviation battalion.
"Uncle Sam called me in, and I went there and I had to do it," he told KUT's Audrey McGlinchy in 2015.
Overton, who was born in Bastrop County in 1906, returned to Texas after the war. He was living in East Austin until his death Dec. 27.