'The Timing Is Not Ideal': State Cleanup Of Homeless Camps Comes As Austin Clears Area Around ARCH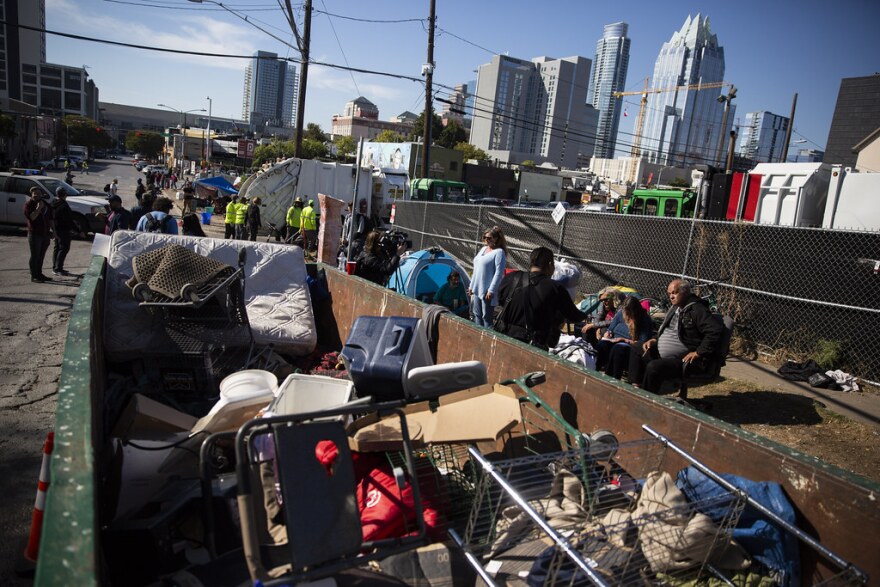 Crystal Harris cares about two things – a blanket and a teddy bear that belonged to her mother, who died two years ago. This morning, the 24-year-old homeless Austinite was prepared to fight for both of them.
Harris and other people staying outside the Austin Resource Center for the Homeless were rousted this morning, when the City of Austin began enforcing its camping ban outside the building. Austin police cordoned off the entire block between Seventh and Eighth streets while city crews began removing belongings over protests from those experiencing homelessness and advocates with bullhorns.
"That's still one touchy spot to me," Harris said, referring to her belongings. "I will act a plum fool, if they were to come over here and try to bother my stuff right now. It's confusing. It's tiring."
But Harris and Kim Johnson, 36, stood their ground, temporarily moving their belongings while a cleaning crew swept over their spot and moved tents, mattresses and pallets into a trash compactor and a nearby dumpster across the street from the Salvation Army's downtown shelter.
Tensions flared when advocates and police stood toe-to-toe at some camps, suggesting crews were throwing away personal property like medicine and identification, not merely structures, which APD won't allow under city ordinances passed on Oct. 17. Johnson said she was worried the crews were going to take her iron supplements, which she takes for sickle cell anemia.
Adding to that confusion, the cleanup occurred in tandem with the Texas Department of Transportation's sweeps of underpassesacross the city. The move is a state response directed by Gov. Greg Abbott, who threatened state intervention if Austin change rules governing homelessness.
Those sweeps were set to begin at U.S. Highway 183 and Burnet Road at 8 a.m., but TxDOT told KUT the timeframe had changed.
"This is a fluid situation with many moving parts. We are revising our schedule and will not be starting at 8 a.m. at US 183 and Burnet Road, though we still plan to begin the cleanup on Monday," TxDOT Spokesperson Diann Hodges told KUT Sunday night. "Right now, the plan is for weekly cleanups."
Outside the ARCH on Monday morning, Front Steps Executive Director Greg McCormack said uncertainty didn't make things easier for service providers or the homeless Austinites preparing to move along elsewhere.
"The timing is not ideal, for sure," he said. "Things just kind of fell in line to where this was happening. APD was ready to go with this, and the state, evidently, is starting their cleanups under the overpasses."
Front Steps, which operates the ARCH, is listed as a resource on flyers notifying people living under bridges that they'll have to move while contractors clean up the underpasses. McCormack said last week he had been in contact with the state about cleanups, but that he had received little communication outside of an after-hours voicemail last week and a follow-up call Wednesday.
"We're full right now, and so, I let them know that," he said. "They're aware of that. I'm sure some people will still come here."
Seventy-three-year-old Every Walls, who's been camping outside the ARCH for the last four months said this morning that he didn't plan on moving unless he was forced to.
"Man, I'm not fitting to move. If they take it down, they take it down. I ain't going to squabble about it. I'm just going to go get me another tent and put it right back up. I'll go get me a tent from Walmart and put it right back up," he said, suggesting he may head up north to Airport Boulevard to camp under a bridge. "I've got to put it back up somewhere."
Walls stood his ground, as well, as crews cleaned the area around him; his tent stood solitary and stalwart among disassembled camps.
Just before 10, McCormack spoke with Walls about connecting him with services, taking down his number and promising he'd reach out to him soon. Walls said he's in talks with the Community First! Village run by the nonprofit Mobile Loaves and Fishes, and he's going to fill out an application to live there this week.
The City of Austin has made it a priority to end homelessness, and its efforts to house both youth and veterans have been bright spots in that push. Last year, the city reached the benchmark of "effective zero," meaning the number of homeless veterans is offset by the number housed by city and county housing efforts.
'It's Making It Harder For Us'
Ahead of TxDOT's sweeps today, Chris Baker of The Other Ones Foundation was out Sunday at 183 and Burnet and down south at Packsaddle Pass in South Austin, helping people move their belongings into a truck bed. Baker said he was contacted by the state to help in the cleanup effort, but that he couldn't participate in good conscience.
He said it's been frustrating to see so much confusion ahead of the cleanups.
"You know, we're out here helping people move their belongings and move themselves, and, you know, some of them are choosing to go and live somewhere else," he said. "Where else are they choosing to go and go live? Under some other f------ bridge or in the woods somewhere. And that's like – it's unconscionable, man."
Andrea Aguilar and her dog, Titan, were both prepared to move if crews forced her out from under the bridge. As she charged her phone in Baker's truck, she said she's been homeless for roughly seven months, and that she plans to camp along the service road if she's kicked out.
Aguilar said she understands the need to clean up camps, but wishes the governor didn't politicize the issue of homelessness.
"I feel like politics is overweighing what his heart really is, because at first he was, you know, he wanted to help us. And all the sudden he puts these demands … and I understand the politics," she said, "but it's just hard. It's making it harder for us, you know?"
Austin has been doing similar cleanups at 61 underpasses across the city since May.
Both Aguilar and Harris said they hoped the city would focus more efforts on single women experiencing homelessness. Aguilar also said it's been hard to look for work while caring for her dog. She doesn't want to leave him, but doesn't have a friend to keep an eye on him.
Harris says she hopes the city invests more in day services like showering and sleeping, which the ARCH is phasing out as it transitions into a housing-focused shelter with mandatory case management. On top of that, she doesn't know where she's going to sleep now.
"Where is there to go? All of this is really to try to intimidate somebody. There's nowhere to go," she says. "They're not helping us."