UT Austin Announces Changes To Sexual Misconduct Policies Following Student Pressure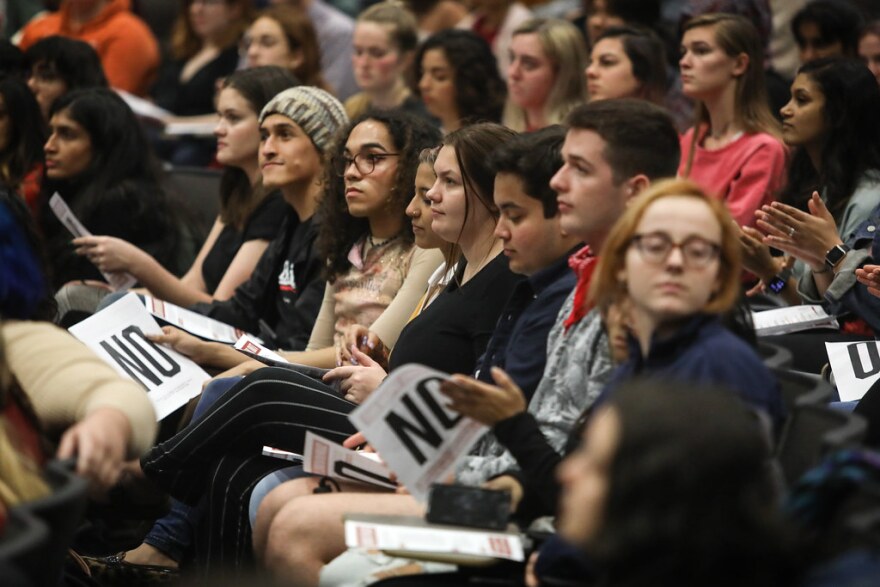 UT Austin is updating its sexual misconduct policies after months of campus protests.
Students organized after discovering some faculty members – including Coleman Hutchinson, an associate professor in the English Department, and Sahotra Sarkar, an integrative biology and philosophy professor – were allowed to keep their jobs after violating the university's sexual misconduct policies. Students stormed Sarkar's class, circulated a petition for student safety and staged sit-ins outside administrators' offices.
The university hired an outside law firm, Husch Blackwell, to review its polices, provide clear disciplinary guidelines and make suggestions on how to improve communication with the campus community. The firm released its findings Monday.
University President Greg Fenves said he accepts all the recommendations.
The suggestions are "designed to better support survivors, provide clear disciplinary guidelines and improve communication with the campus community," he said in a statement.
There are three main changes to UT's sexual misconduct policies:
After a thorough investigation is completed, the school will fire any UT faculty or staff member who is found to have committed sexual assault, sexual harassment, stalking or interpersonal violence.
Second, if a UT employee is found to have engaged in one of these four types of misconduct and the university does not fire that person, the university must explain its reasoning publicly. Information on the survivors will be kept private, Fenves said.
Lastly, the university said it is committed to making it faster and easier for survivors to receive resources after an incident. UT said it will streamline the resources it offers to survivors.
"Sexual assault, sexual harassment, stalking and interpersonal violence will not be accepted at The University of Texas at Austin," Fenves said. "If a faculty or staff member commits these acts, the consequences will be clear."
Fenves said experts, including those in the Steve Hicks School of Social Work, would be consulted to "introduce restorative justice as an alternative approach."
Under pressure from students, UT released a report in January that showed 17 employees – including three faculty members and one research fellow – violated the school's misconduct rules between November 2017 and December 2019.
During an emotional town hall earlier this year, students demanded transparency in how the university handles sexual misconduct cases. They questioned why professors who have been found guilty of misconduct were still allowed to teach and called for the termination of faculty found guilty of violating school policies.
The school also formed a Misconduct Working Group made up of university leaders, faculty and students, which worked with Husch Blackwell to develop the policies.
Fenves said the university will begin implementing the new policies immediately and that there will be more opportunities for input from students, faculty and staff as the process moves forward.
Got a tip? Email Dani Matias at dmatias@kut.org. Follow her on Twitter @Matias7Dani
If you found the reporting above valuable, please consider making a donation to support it. Your gift pays for everything you find on KUT.org. Thanks for donating today.