Austin's Bitcoin ATM Operators Look Toward Currency's Future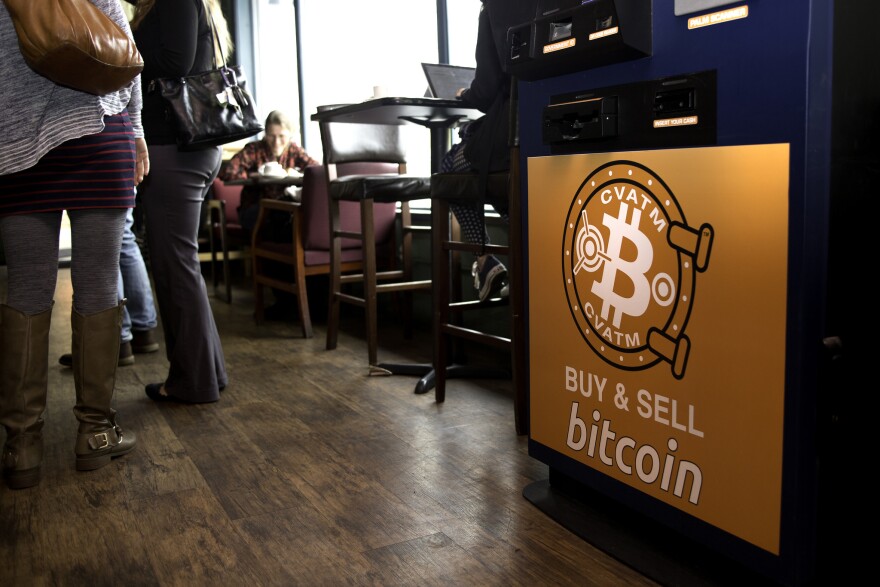 As the city prepares for the international mobs of South by Southwest, one small but growing industry is doing some last-minute tinkering.
The nation's first cash-dispensing bitcoin ATM was installed about a year ago at HandleBar on E. Fifth St., just in time for SXSW last year. But for the last few months it's been out of service, in need of a software upgrade. Sheldon Weisfeld, CEO and co-founder of CoinVault ATM, went in Monday to make the necessary repairs.
He wanted to make sure that the machine, newly acquired by his company, was ready for SXSW Interactive visitors, who start arriving this week.
What's bitcoin?
Bitcoin is a digital currency, invented in 2009. It's not regulated by any government or banking system. It's based on open source software, it's exchanged peer-to-peer, and it's encrypted so transactions are anonymous. Bitcoin appeals to people who like the idea of a market free from the influence of corporations, governments and the Federal Reserve. But the directness and anonymity of the transactions are what's also drawn the attention of those involved in illegal commerce – the drug and weapons peddlers of Silk Road like to carry out transactions in currencies like bitcoin. Now, though, more and more retailers, like Microsoft and Overstock, are accepting bitcoin as a form of payment.
Bitcoin ATMs in Austin
Since bitcoin ATMs arrived in Austin a year ago, some have existed in states of disrepair, and they haven't all seen much use. But some people, like Weisfeld, are gambling that as Austin continues to boom and its tech community continues to expand, bitcoin will gain more prevalence. Then, when users want to take the online currency offline, and exchange it for cash, his machines will be ready.
Last week, Houston-based CoinVault ATM purchased the Austin-based Bitcoin Agents, LLC, from Michael Piri for an undisclosed amount. Piri says that he became "too busy" with other ventures to make sure the machines were operational.
Now, in addition to CoinVault's flagship ATM at Central Texas Gun Works on Ben White, it's also operating the machines at HandleBar and at Bennu Coffee on MLK. There is one other bitcoin ATM in Austin, according to coinatmradar.com, at Brave New Books on Guadalupe, which is operated by a different company, ExpressCoin. That machine is currently out for repairs, says a store employee, also undergoing an upgrade. They're hoping it will be back by this weekend.
The bitcoin ATMs operated by CoinVault, Weisfeld says, are "buy-and-sell," meaning that users can buy bitcoins with cash at the kiosk or liquify bitcoin and withdraw cash in dollars. Just like a regular ATM, this one charges a transaction fee based on current bitcoin exchange rates, which today would be about a dollar, Weisfeld says, for a $20 purchase. If someone needs cash for a transaction, or wants to make a non-credit card purchase at a place that doesn't accept bitcoin, then a bitcoin ATM presents the solution.
On bitcoin's future
When it comes to an unbacked currency like bitcoin, its success ultimately depends on people's confidence in it, says Professor Andrew Whinston, Director of the Center for Research in Electronic Commerce at UT Austin.
"Right now it's more of an academic idea. It's somewhat of interest to people who want to create the next great transaction system…But it's still very much at the beginning." If that's the case, though, will it go beyond the beginning?
"Who knows?" he says.
But Weisfeld and others are banking on bitcoin's future. Of the four machines in Austin, he says it's the one at Gun Works that sees the most action.
The most popular bitcoin ATM in Austin
Central Texas Gun Works owner Michael Cargill says that customers can, and do, use bitcoin to purchase firearms and merchandise, either in-store or online.
"We get people from all over," he says. "Today already we got someone from Minnesota who ordered firearms and ammunition."
But Cargill says he sees a lot more bitcoin ATM visitors than online bitcoin customers. In his estimation, that's because of his shop's location.
"We're right by the airport," he says. So the bitcoin ATM functions as a sort of currency exchange for bitcoin-savvy travelers. He says he sees a lot of international visitors come straight from the airport, use the ATM, and then leave.
Cargill says he expects many tourists to stop and use the machine in the next couple weeks. This year's Interactive conference includes a series of talks from bitcoin industry leaders.
But beyond the glut of disposable-incomers at SXSW, Weisfeld's hopeful for the long-term viability of bitcoin ATMs in Austin. He's looking to put a new machine somewhere in North Austin, he says, and perhaps one on the Dell campus, sometime in the near future.
"I think that you have a very solid technically literate customer base, and with the global attention to the evolution of digital currency, that these ATMs will continue to do significant volumes," Weisfeld says from HandleBar, still working on the software upgrade.