Chamber Event Encourages Black Business Owners To Seize Opportunity In A Changing Austin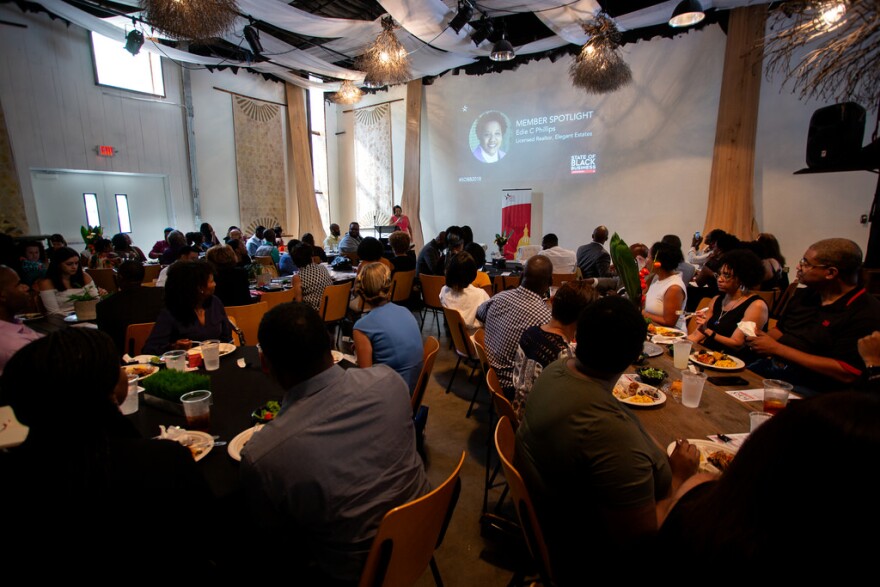 Expansion and intergenerational wealth building was emphasized by business leaders Thursday at the annual State of Black Business Luncheon.
The event, hosted by the Greater Black Austin Chamber of Commerce, gives black business owners the opportunity to hear from experts about current issues facing them as well as growth opportunities.
"It's important for our owners to get to see someone who scaled up," GABC President and CEO Tam Hawkins said.
Austin's population is 7.6 percent black, and there are about 6,670 black-owned firms, according to the U.S. Census Bureau. Hawkins said the state of black business in Austin is good, but could be better.
In the retail trade sector, black Austin businesses earn three times as much as those in other Texas cities, she said. "But again, when you look at it from [a pan-ethnic] perspective, we still are so small and at the bottom, and there's much work to continue to be done."
Richelieu Dennis, Sundial Brands co-founder and CEO, was the event's keynote speaker. Sundial Brands, which owns the popular Shea Moisture skin and hair products, was recently named one of the 10 largest black-owned businesses in the country.
Dennis acknowledged that Austin's small black population could cause barriers for black business owners, but it also offers an opportunity.
"In this time of change, take a step back to see the opportunities that change brings, versus the hardships that they create and then go after those opportunities that they bring," he said.
Although black-owned businesses have seen growth in Texas over the past several years, many firms remain small, according to a 2014 Bureau of Business Research study. The study also found that 63-70 percent of black business owners felt that they were unfairly excluded from contracting opportunities in both the government and private sectors.
Hawkins said these barriers cause apprehension from black business owners, who are sometimes nervous about seeking investments outside of their own community. She said she's trying to change that mindset.
"It's about conditioning and setting the right culture and atmosphere for that to occur," Hawkins said. "When I was growing up that was really taboo and it was really a 'hush-hush' topic, so we have to start talking about it so people can see it differently."
Last year, Sundial Brands was acquired by Unilever, one of the largest consumer goods companies. Dennis, who remained Sundial's CEO, encouraged business owners to serve their own community, while also seeking outside ventures.
"It's important that the community stays in communication and in support of each other," he said.
Hawkins said that's her hope for black business owners who live in a city and network in an industry where they may not see themselves reflected.
"Maybe investment may not look like you," she said, "but, if you want to get to be in a position to sell off to Unilever, what are the steps that you need to do that?"