School Districts Take Advantage of STAAR Rule Change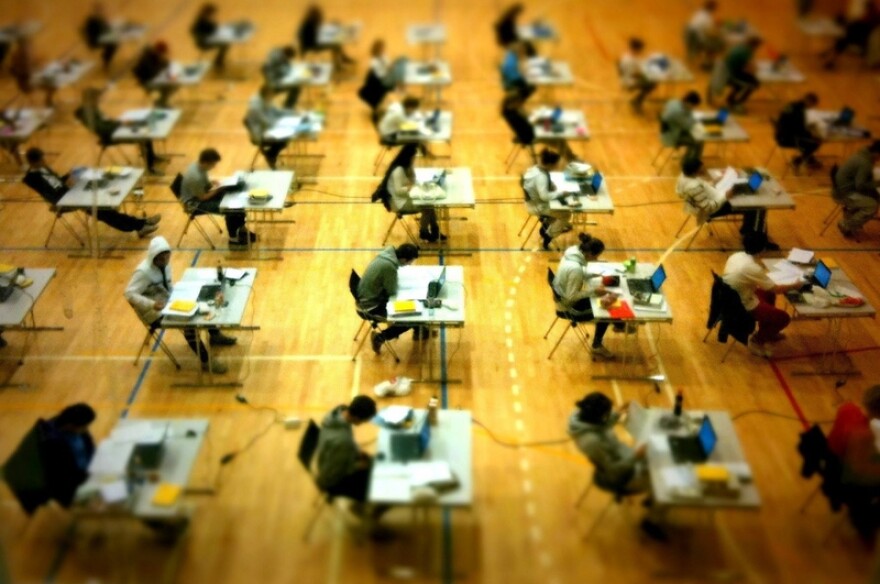 As the first of 2.5 million Texas public school students prepare to take new state-mandated standardized tests next week, ninth graders in at least a third of the state's school districts won't have to worry about how the test will affect their end-of-year grades.
As of Tuesday, 405 of the state's roughly 1,200 school districts had told the Texas Education Agency that they would not factor State of Texas Assessments of Academic Readiness (STAAR) scores into students' grades for the 2011-12 school year.
The districts have said they will defer the implementation of a rule that says the new end-of-course exams must account for 15 percent of high school students' grades for one year. They are taking advantage of a change in the rollout of the exams the Texas Education Agency announced in February. For many, it was a welcome compromise as the state transitioned to the new system.
Opposition to the so-called 15 percent rule grew after House lawmakers held a hearing on the difficulties school districts were encountering with the new system and TEA Commissioner Robert Scott said that he had concerns about the role of testing in the classroom. In a high-profile reversal, state Sen. Florence Shapiro, the chairwoman of the Senate's Public Education Committee who had previously opposed any deviation from the original exam rollout, said that that she would support a one-year deferral of the rule.
Debbie Ratcliffe, a spokeswoman with the TEA, said she suspects that all districts will delay the 15 percent rule, which supporters say helps hold students accountable for how they perform on the test.
"We haven't heard anybody say they want to maintain it," she said. "Our guess is that they want their school boards to weigh in, and they may not have had a board meeting since we announced it."
Ratcliffe also suspected that because districts have until May 1 to notify the TEA that they'll be deferring the rule, "maybe they're not feeling a big rush."
Uproar about the 15 percent rule was partly fueled by the fact that students' test scores will not factor into school accountability ratings for one year.
"It did become an issue of fairness for the students," Ratcliffe said. "It wasn't fair to fully hold the ninth graders accountable when we're not counting schools accountable."
Districts have many reasons for deferring the 15 percent rule this year, among them relieving some pressures on the students as they transition into taking the new test and the fact that students and parents in some districts were still confused about how grades would be affected by test scores.
But for the educators and parents who believe high-stakes testing squelches creativity in the classroom and is not the most accurate measure of school performance, a deferral of the rule doesn't the alleviate problems that they see with standardized testing in general.
Officials at the Texas Association of School Administrators sent out a nonbinding resolution against high-stakes tests, like STAAR, for districts to pass in their school board meetings after Scott made his remarks in February.
The resolution claims that students learn at a superficial level when schools over-emphasize the importance of standardized tests. It calls for the Legislature to develop a better, more accurate system for evaluating school accountability.
According to TASA, school boards in 78 districts, including Lewisville, Mesquite, Richardson and Plano, have passed the resolution.
"We anticipate that list to grow," TASA spokeswoman Jenny LaCoste-Caputo said.
TASA officials also suspect that the majority of districts will ask to defer the 15 percent rule for this year.
"Many district leaders feel it's unfair to this class of freshmen to hold them to that," LaCoste-Caputo said.
Among those who approved the resolution is Hereford ISD in the Panhandle. Superintendent Kelli Moulton had considered not submitting her district's scores to the state in protest of high-stakes standardized testing. But she decided against it after no one would give her an answer as to what would happen if she held the scores.
"I'm 99 percent sure that we will submit our test," Moulton said. "I'm not willing to risk what would happen to teachers and students."
Moulton said she is happy that the controversy over STAAR has started a conversation about standardized testing in Texas. She maintains that she is not opposed to accountability or testing, but still sees problems with high-stakes testing like STAAR.
"I still think that we're measuring the wrong thing," she said. "I wish people would wake up before it's too late."