A Global Oil Glut Brings a Tanker 'Traffic Jam' to The Gulf of Mexico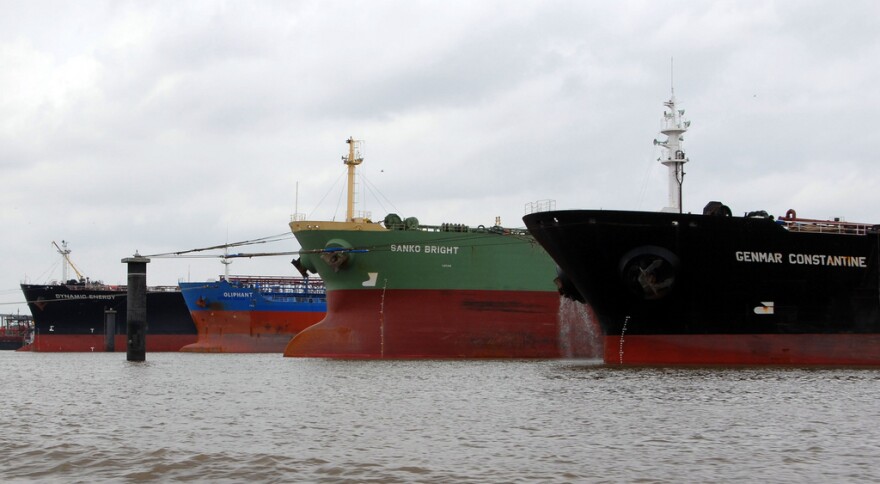 The low gas prices a lot of us are enjoying when we fill up our cars are thanks, in part, to a glut in the global supply of oil. In fact there's so much crude oil being pumped right now that it's created a traffic jam in an unlikely place.
Matt Smith is the Director of Commodity Research at ClipperData, a firm that tracks oil tankers around the globe. He says a few months ago he started noticing tankers stacking up, just idling off major ports – first in Singapore, then China, then the Arab Gulf, and then in the Gulf of Mexico, off the Houston Ship Channel.
"It sort of went from 30 to 40 ships, then suddenly you're up to 50," Smith says. "And this is equal to triple the volume that's normally sat off the U.S. Gulf Coast."
Smith says it's unclear if the tankers are jammed up because onshore inventories are full or because there are no buyers for the oil. Either way, he says, "it's highlighting the supply glut of crude that we're seeing on a global basis."
Smith also wonders if the tanker backup – coupled with gas prices at their lowest levels since 2009 – foreshadows a more dramatic drawdown in production in the U.S., particularly in oil-reliant states like Texas and North Dakota.
"The supertanker traffic jam that we are seeing is contributing to that as well," Smith says. "And, perhaps it is the endgame – where we're seeing that oil glut build up, we're seeing inventory build up and now we're seeing a build-up of tankers too, and this is helping to put down pressure on crude prices and, ultimately, that is impacting prices at the pump."