How do I throw away my big old couch in Austin?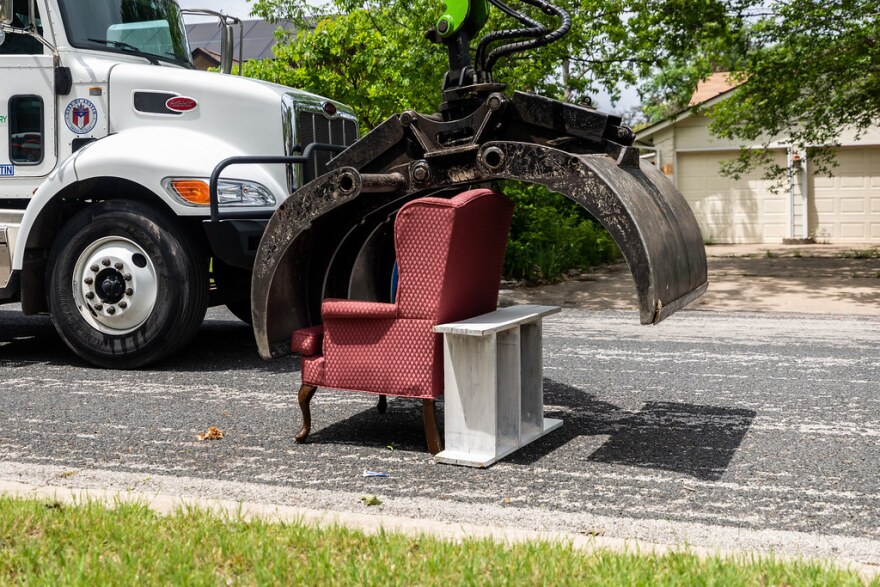 Ismael Figueroa operates a crane attached to the top of a dump truck and uses it to grab large pieces of trash left on an Austin curb for pickup.
Figueroa, who has worked with Austin Resource Recovery's bulk pickup program for over 16 years, says he usually has fun on the job, seeing lots of odd objects and using a claw to pick them all up.
His coworker Rudy Reyna says he loves seeing kids run outside when their trucks roll by.
"Then they're doing that universal honk-the-horn sign," he says. "So here I am, and I'm honking it and I love it. You know, I was that kid once."
The City of Austin's bulk pickup program collects large items that can't fit inside a regular trash bin a few times a year in select neighborhoods.
Before the pickup crew comes in, Reyna says, they often see people picking through the trash and nabbing items in decent condition.
"We're glad to see them," he says. "Because without them, basically all of it ends up in the landfill."
Austin Resource Recovery is working on plans to salvage reusable items from bulk pickup to help meet the city's zero waste goal.
So far, only metal items and tires get picked up and recycled by the program, but they can be recycled only if there aren't any other materials attached to them.
Reyna says in general people are pretty good about what they can and can't put out for bulk pickup, but there are occasional mishaps.
The city's website has information on recycling and disposal for specific items, but here's a general guide for bulk pickup.
Bulk items that can be picked up:

Doors
Carpet
Furniture
Appliances (remove doors)
Passenger car tires (remove rims; limit eight tires per household)
Lawnmowers (remove gas/oil)
Railroad ties (cut in half)
Pallets
Rolled fencing
Nail-free lumber
Bulk item crews cannot collect:

Brush
Household trash
Cardboard boxes
Hazardous materials
Mirrors
Automotive chassis and bodies,
Motorcycles
Trailers,
Boats
Tires that are still mounted on rims
Sheet glass and other construction and remodeling debris
Find your neighborhood's bulk pickup schedule or make a request for pickup here.