Texans Signing Up For Obamacare Plans Face More Obstacles This Year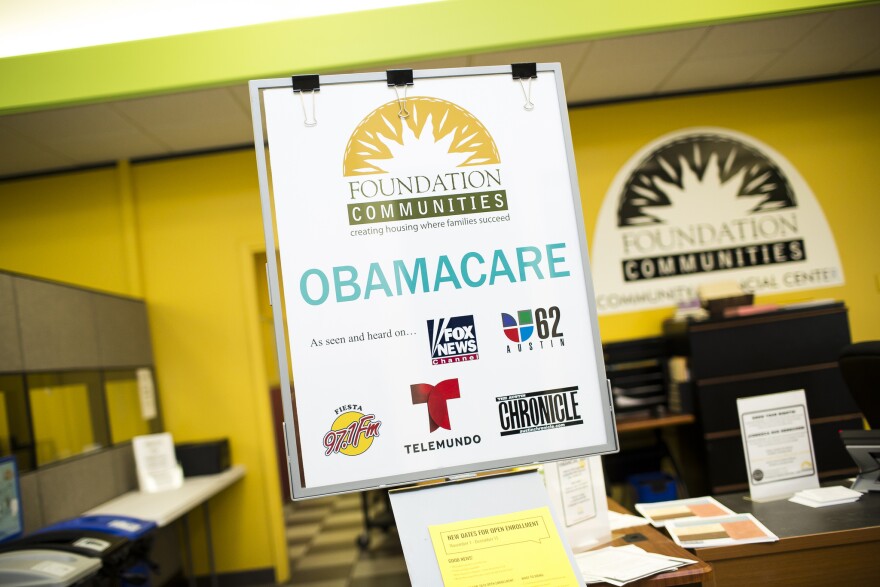 Open enrollment for health plans through the Affordable Care Act starts Nov. 1. But, this year, cutbacks in federal money for outreach efforts for potential enrollees could mean fewer people signing up for health insurance in Texas.
That gap in federal outreach means the work of getting people signed up could fall squarely on local advocates like Vitoria Ortega of Foundation Communities.
Ortega has been busy calling people who currently have an insurance plan through the Affordable Care Act, also known as Obamacare.
Ortega, and others at Foundation Communities in Austin, are letting folks who don't receive insurance from an employer, or Medicaid and Medicare, that it's time to sign up again.
She says she and others are on a serious time crunch to sign up this year. Last year's enrollment period was three months long.
This year, it's six weeks.
"A lot of the people were not aware of the short time," Ortega says. "And they are very interested. They really are wanting to renew. They've had a really good year and they want to have everything ready to go."
"The local groups have to sort of step in and take charge of this. They are also doing that with fewer resources and a lot less support."
In previous years, outreach was a big priority for the federal government. Then-President Barack Obama would even get the word out himself, but things are different now.
President Donald Trump has vowed to dismantle Obamacare and cut the federal budget for outreach from $100 million to $10 million.
"That means that none of your high dollar advertising – like radio ads or TV ads – you are not going to see any of that from the federal government," says Melissa McChesney with the Center for Public Policy Priorities, a left-leaning think tank. "If you do see that, it will likely be funded by a local organization."
Federal cuts will be felt especially here in Texas, McChesney says, because state officials have historically done nothing to get the word out about open enrollment.
She says there are also cuts this year aimed at navigators – the people who help enrollees sign up for a plan on the online federal marketplace. In Texas, the budget for that was cut by a third.
"The local groups have to sort of step in and take charge of this," McChesney says. "They are also doing that with fewer resources and a lot less support."
Some groups in Texas are even jumping into this work for the first time.
Laura Guerra-Cardus works with the Children's Defense Fund, which, she says, has historically focused on signing kids up for Medicaid and the Children's Health Insurance Program. She says her group is ramping up their involvement in Obamacare sign-ups more than ever.
"That is because it is a big piece, or the next big piece, to making sure that the Affordable Care Act stays strong and remains available here for people," Guerra-Cardus says.
The fear is that if a lot of people don't sign up this time around, it could destabilize the insurance market – meaning costs will go up for people with an Obamacare plan.
"People don't understand that the Affordable Care Act is still the law."
Guerra-Cardus says the stakes are high, but open enrollment has presented an opportunity for some political organizing. She says left-leaning folks in groups like Indivisible have gotten involved.
"What we have heard is that some people are tired of always fighting against bad policies," Guerra-Cardus explains. "So, a lot of these grassroots groups have just been saying no to all of these repeal efforts, and they are really excited to now be working on something positive of getting people signed up."
Other groups say they are seeing this, too. Elizabeth Colvin runs Insure Central Texas, which is part of Foundation Communities. Her group is doing outreach and will help Austinites sign up for plans when the enrollment starts in November.
"We have had over 200 people sign up to volunteer and we are going to need all of those folks to provide enrollment assistance during this short period of time," she says.
And for all the folks who are pitching in, there's another hurdle: confusion.
Colvin says because of all the repeal efforts over the past several months, people have no idea what's going on.
"We are going back to the levels of confusion that people had in year one," Colvin says. "People don't understand that the Affordable Care Act is still the law. They don't understand the mandate is still in place to have insurance. So, there is a tremendous amount of confusion and that we are very concerned is going to limit enrollment this year."
In Austin, a combination of local groups, volunteers and local government are going all in to prevent hiccups from making a big dent in enrollment numbers.
They say it's not just about making sure the Affordable Care Act stays strong, it's because they don't want uninsured rates in Texas to get even worse.
Right now, Texas has the highest number and the highest rate of uninsured people in the country, according to numbers from the U.S. Census Bureau.
Open enrollment for Obamacare runs from Nov. 1 to Dec. 15.