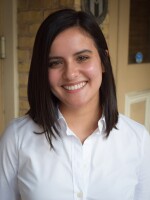 Allyson Ortegon
Williamson County Reporter
Allyson Ortegon is the Williamson County reporter for KUT. Previously, Allyson covered Texas politics and policy, and broadly, the Austin community, during internships and fellowships with KUT, The Alcalde Magazine and The Texas Tribune. She also covered the Texas Legislature for the Texas Newsroom, with stories running on NPR member stations around the state. She is an alumna of the NPR Next-Generation Radio Project, hosted by NPR and KUT.
Allyson graduated from The University of Texas at Austin with a bachelor's degree in journalism and a secondary concentration in business. She reported across radio, television and print media for student publications including The Daily Texan and Texas Student Television. She is originally from Cibolo, Texas, where she wrote for the Schertz Magazine, a local magazine near her hometown. She speaks Spanish and is a member of the National Association of Hispanic Journalists.
The court indicted Chody on a third-degree felony charge of tampering with physical evidence.

Ambler's death in the custody of deputy sheriffs was captured by a television crew. The Travis County District Attorney's Office said Jason Nassour faces a charge of evidence tampering stemming from missing video footage.

The former deputies, James Johnson and Zachary Camden, have been charged with second-degree manslaughter. Ambler died after being tasered during a traffic stop in an incident that was filmed for "Live PD."

The Williamson County and Cities Health District has scaled back some of their restrictions for the first time since November.

The county has been keeping up with demand from residents in the state's prioritized groups and cannot vaccinate people outside those categories.

Williamson County hosted the vaccine marathon over the weekend to catch up on vaccines rescheduled due to the winter storm and to allow folks to get vaccinated outside normal working hours.

Health officials in Williamson County are recommending people continue following COVID-19 safety protocols — even after the statewide mask mandate goes away next week.

La mayoría de los residentes del Condado de Williamson ya tienen servicio eléctrico, pero los apagones dejaron a muchos sin agua.

Power has been restored for a majority of Williamson County residents, but the outages left many without safe drinking water.