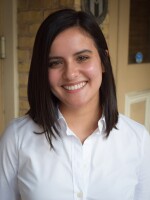 Allyson Ortegon
Williamson County Reporter
Allyson Ortegon is the Williamson County reporter for KUT. Previously, Allyson covered Texas politics and policy, and broadly, the Austin community, during internships and fellowships with KUT, The Alcalde Magazine and The Texas Tribune. She also covered the Texas Legislature for the Texas Newsroom, with stories running on NPR member stations around the state. She is an alumna of the NPR Next-Generation Radio Project, hosted by NPR and KUT.
Allyson graduated from The University of Texas at Austin with a bachelor's degree in journalism and a secondary concentration in business. She reported across radio, television and print media for student publications including The Daily Texan and Texas Student Television. She is originally from Cibolo, Texas, where she wrote for the Schertz Magazine, a local magazine near her hometown. She speaks Spanish and is a member of the National Association of Hispanic Journalists.
Georgetown and Leander Independent School Districts have put sizable bond packages on the ballot this November focusing on renovating facilities and and creating new ones.

The Georgetown City Council asked staff to create a plan for a memorial that would be both commemoratory and functional.

Masks will be required when COVID-19 transmission is at its highest levels, and they will become optional as community spread slows.

Nearly 400 students and staff members have tested positive for the virus since the school year began two weeks ago, school district data show.

The city aims to house at least 83 people transitioning out of homelessness at the Candlewood Suites on Pecan Park Boulevard in Williamson County.

School districts had hoped to use state funds to offer virtual learning next year. They won't be getting any.

Organizers say an online Pride event last year helped make the presence of the LGBTQ community known in the historically conservative area.

A procedural error called the Round Rock ISD Board of Trustees back on Saturday to vote on a resolution to appoint a new superintendent.

Round Rock ISD named Hafedh Azaiez the sole finalist in May, and the school board approved his appointment on Monday. Parents had asked for a delay to allow for more public input.

Nunca antes se había detectado un caso del Virus del Nilo Occidental en el condado de Williamson a estas alturas del año desde que las autoridades empezaron a recolectar muestras de trampas para mosquitos en 2013.