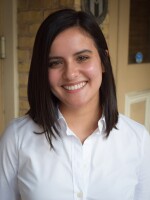 Allyson Ortegon
Williamson County Reporter
Allyson Ortegon is the Williamson County reporter for KUT. Previously, Allyson covered Texas politics and policy, and broadly, the Austin community, during internships and fellowships with KUT, The Alcalde Magazine and The Texas Tribune. She also covered the Texas Legislature for the Texas Newsroom, with stories running on NPR member stations around the state. She is an alumna of the NPR Next-Generation Radio Project, hosted by NPR and KUT.
Allyson graduated from The University of Texas at Austin with a bachelor's degree in journalism and a secondary concentration in business. She reported across radio, television and print media for student publications including The Daily Texan and Texas Student Television. She is originally from Cibolo, Texas, where she wrote for the Schertz Magazine, a local magazine near her hometown. She speaks Spanish and is a member of the National Association of Hispanic Journalists.
A procedural error called the Round Rock ISD Board of Trustees back on Saturday to vote on a resolution to appoint a new superintendent.

Round Rock ISD named Hafedh Azaiez the sole finalist in May, and the school board approved his appointment on Monday. Parents had asked for a delay to allow for more public input.

Nunca antes se había detectado un caso del Virus del Nilo Occidental en el condado de Williamson a estas alturas del año desde que las autoridades empezaron a recolectar muestras de trampas para mosquitos en 2013.

This is the earliest in a year that the virus has been detected since county health officials started testing mosquitos in 2013.

The Round Rock and Hays school districts will not be offering virtual learning next year after state funds fall through.

"Today's announcement that charges will be streamlined for both counties jointly to prosecute is one we see as a more efficient — and ideally expeditious — path to justice," Ambler's family said in a statement Wednesday.

The 40-year-old Black man from Pflugerville died while in the custody of Williamson County sheriff's deputies. The encounter was filmed by a television crew from "Live PD."

The former deputy has been charged with oppression and assault after body camera footage shows he grabbed a domestic violence victim by the throat and shoved her against the wall.

The law, named for a Black man who died after being tasered by Williamson County deputies, would prohibit law enforcement agencies from entering into contracts with reality television shows.

The district has so far pulled six books from student reading lists. The authors say prohibiting them will do more harm than good.