Poll: Education Leaps Ahead as Most Important Issue Facing Texas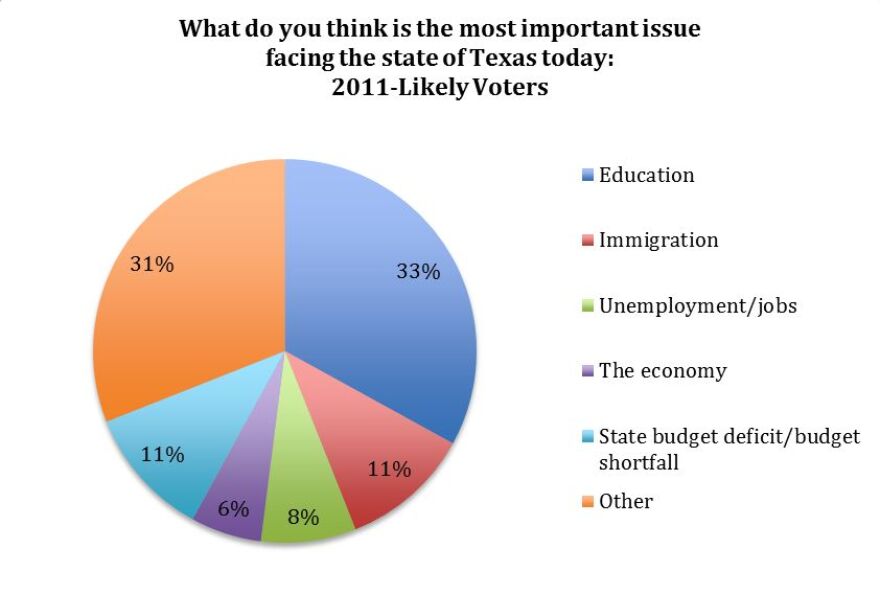 Education has displaced immigration as the most important issue in the Lone Star State, according to an annual survey sponsored by the Texas Lyceum, a non-profit leadership group.
Thirty-three percent of likely voters said education is the most important issue facing the state of Texas today. Immigration, at 11 percent, was tied for second place with the state budget/deficit.
Last year, immigration was the most important problem facing Texas, 21 percent of respondents said. Fourteen percent said it was education in 2010.
"The fact that education was named as the most important problem facing Texas is a major shift from last fall's Lyceum poll numbers," University of Texas at San Antonio Professor Amy Jasperson, who assisted with the poll, said in a press release. "This peak in concern for education is not surprising given the debate over state budget cuts in Austin."
You can read an executive summary of the poll here. It was conducted May 24 through May 31, and has a 3.69 percent margin of error, according to the pollster.