Many Austinites Question Sincerity of Armstrong's Confession to Oprah
Lance Armstrong admitted to using performance-enhancing drugs in an interview with Oprah Winfrey last night. For many Austinites, the much-anticipated confession was worth a special viewing appointment. And for some, it even called for a watch party.
A few dozen watch party attendees crowded around picnic tables on the patio and at the u-shaped wood bar at Little Woodrow's on Sixth Street as they waited for the tell-all from the Texas native on his decade-long doping cover up.
Before the interview, friends squabbled over their predictions for the interview. Others, in tune with the bar atmosphere, outlined the rules of their table: if anyone says "allegedly" or "blood transfusion" —drink.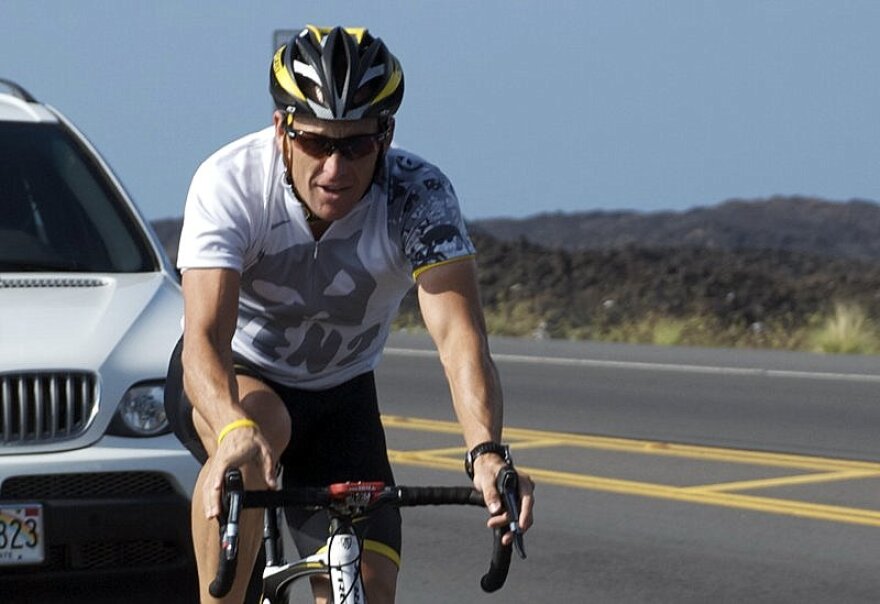 Little Woodrow's assistant manager Keith Daily had the idea for the "Watch Oprah Ride Lance" viewing party after months of overhearing Lance Armstrong-related bar banter at the downtown Austin hangout. But as part one of the interview on Oprah's OWN Network aired, he found the usually loud sports bar eerily quiet.
"A lot more people showed up than we expected to show up, but more impressive is how intently everybody is watching this interview, hanging on every word," Daily said.
Right of the bat, Armstrong admitted it—he doped. After many years, lawsuits and allegations, the saga has a resolution.
But at the watch party, viewers had mixed feelings. Many in the crowd felt the cyclist had done the right thing in his confession, but others questioned his sincerity.
For Austin attorney Chris Cagle, the confession was the only option left for the internationally-renowned cyclist.
"I think at this point he's got to come out and say: 'Yeah, I understand what the evidence says and I've got to come clean now,'" Cagle said.
In his first interview since being stripped of seven Tour de France titles, Armstrong told Winfrey: "I'm a flawed character." But when asked if he felt he had cheated, he responded simply: "No."
Armstrong then explained that he had looked up the definition of "cheat" and didn't feel that his actions constituted such a title. At the time, he said, he viewed using performance-enhancing drugs the same as having air in his bike tires and water in his water bottle during a race.
The definition of cheat and the alleged prevalence of doping in professional sports consumed table talk at Little Woodrow's bar.
Jacob Leggett believes doping has become ubiquitous in major league sports. He said that while Armstrong's performance-enhancing drug abuse wasn't justified, he believes that professional sports have created a culture where "you can't compete unless you cheat."
Glenn Page, a real estate agent in Austin, held a similar opinion of widespread performance-enhancing drug use in sports. But he views the scandal as an opportunity for the culture to change.
"Cycling, notoriously I think, has been a dirty sport," Page said, "I think it will help, it will be nice to see what kind of results people can have when they can really race and to see what a natural human being can do."
Still, Armstrong's remarks did leave Page and others frustrated. Page called Armstrong both a "local and national embarrassment" and felt that any money the disgraced cyclist won during the seven competitions should be paid back.
Rebecca Vega sat at a nearby outdoor table and watched as Winfrey question the cyclist. Noting the charity work Armstrong has done, she said she entered the night wanting to forgive Armstrong but found his responses arrogant and she questioned his sincerity.
"He sounds very out of touch with the world and what he did, and he just disassociated himself so much from the situation," Vega said, "I really did want to come and forgive him, but he doesn't sound sorry to me still."