A Brief History of UT Athletic Director-Directed Unrest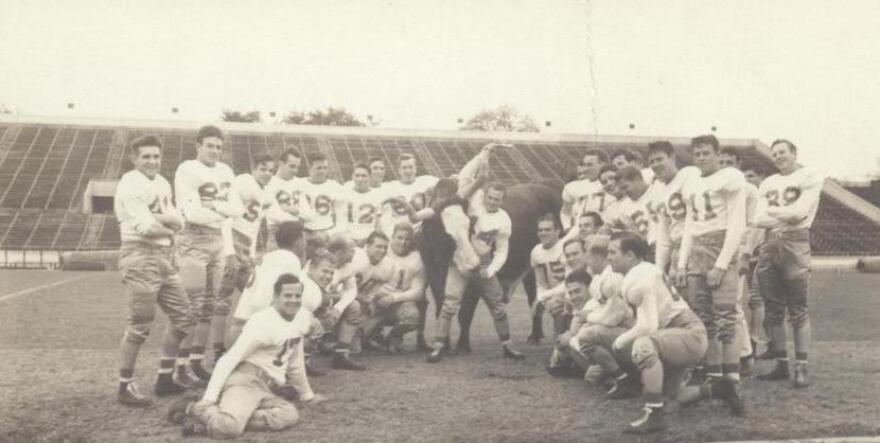 Steve Patterson's out as UT Austin's Athletic Director. His tenure was short-lived and, by most accounts, was a bit of a mixed bag – on the one hand, he facilitated the hires of both Shaka Smart and Charlie Strong; on the other, fans largely accused him of trying to monetize the school's sports at the expense of fans.
But, unlike previous ousters, his has been a relatively quiet one. Here's a look back at the previous shade thrown towards the university's athletic directors.
L. Theo Bellmont
Bellmont served as the school's first director of the athletics department (the former moniker for the position of AD). He also co-founded the Southwestern Conference, helped build Memorial Stadium and scheduled the Longhorns' first game against OU.
Needless to say, Bellmont was given a fair amount of latitude, though he didn't agree with some of UT's other faculty, namely John Lomax, on the role of athletics at the university. Lomax thought athletics should play second fiddle to academics, whereas Bellmont believed just the opposite. Bellmont even suggested the university fire Lomax — who later became a noted folklorist — because he had no "allegiance" to athletics.
But Bellmont's tenure came to an end after his controversial firing of coach E.J. "Doc" Stewart, who was both the basketball and football coach. After rumors began swirling about Stewart's impending termination, Bellmont replied:
"Lest the uninformed give credence to rumors circulated by my adverse critics that I have unwarranted ambitions to wear the royal purple robes of the director of athletics..."
Bellmont lost some luster after Stewart – who brought the trademark burnt orange to the school– was fired. He remained at the school until his retirement in 1957.
Dana X. Bible
Bible, a native Texan, had been coaching at Texas A&M and the University of Nebraska prior to joining up with the Longhorns. Immediately before being brought on, his contract details were leaked to the press, and his 10-year $15,000-per-year salary was formally scorned by the state's legislature in the form of a Senate resolution.
Additionally, even Texas press outlets didn't buy that he could make the Longhorns a winning team. The Sweetwater Reporter suggested he would have a losing season in 1937, something Bible had never experienced in his career. Turns out, he did. Bible won only three games in his first two seasons.
He moved on to take the Longhorns from the bottom of the barrel in the Southwest Conference and won two Cotton Bowls. He resigned on his own terms after handpicking the school's winningest coach, Darrell K. Royal, to helm the Longhorns in 1956.
Jack Chevigny
Before arriving at UT, Chevigny was a member of Knute Rockne's famous Notre Dame squad before moving on to fellow Holy Cross school St. Edward's to coach football. UT snatched up Chevigny, hiring him as head football coach and athletic director in 1934. But, despite his collegiate promise as a player, his coaching career didn't quite pan out.
Though he brought the national spotlight to the program after a win over his alma mater, Chevigny finished his career in 1936 with a losing record. Seeing the writing on the wall, he began to look for other career prospects.
But, before he could be fired, Chevigny issued a verbal resignation at the team's end-of-year banquet. Chevigny never coached at another program after the ordeal, but his tenacity in handling his criticism at UT had caught the attention of Texas Gov. James V. Allred, who appointed him to a position as an attorney for the state.
According to the Alto Herald, Chevigny had "won the admiration of Gov. Allred as a coach, and when blood-thirsty alumni demanded his scalp, Allred promptly gave him a job."
Years later, Chevigny joined the Marines in the Pacific Theater during World War II. He was killed at the Battle of Iwo Jima.