Two Years After His Death, Why Doesn't Chris Kyle Have a Gravestone?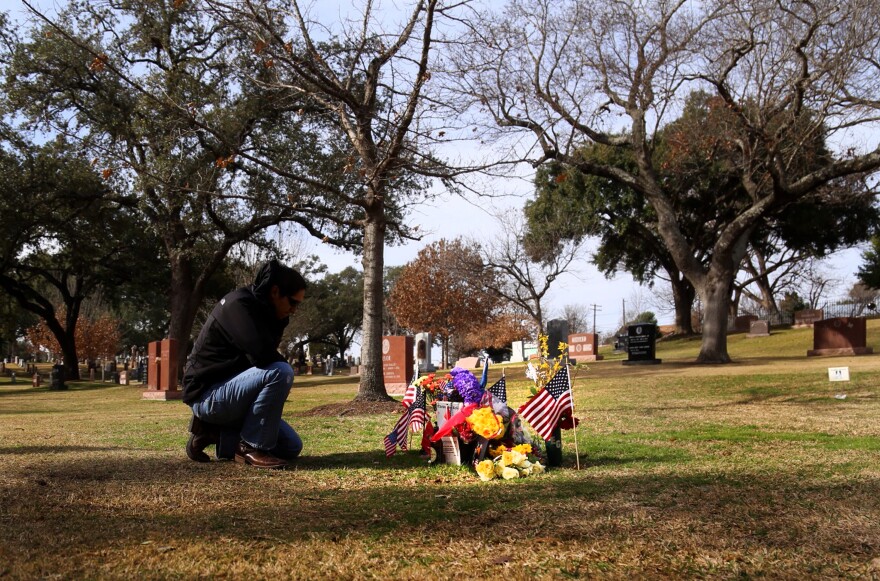 Today, while others are celebrating Groundhog Day and still others are celebrating Armadillo Day, Gov. Abbott is asking Texans to remember former U.S. Navy SEAL Chris Kyle on the second anniversary of his death.
Kyle served four tours in Iraq and Afghanistan, is the deadliest sniper in United States military history and was recently played by Bradley Cooper in the Oscar-nominated film adaptation of Kyle's autobiography "American Sniper," which quickly became the highest-grossing war film of all time.
But still, nearly two years after his funeral and burial at the Texas State Cemetery, Kyle still doesn't have a grave marker.
Kyle was killed in a shooting outside a gun range about 50 miles southwest of Fort Worth on February 2, 2013. He was buried 10 days later after a 200-mile funeral procession that meandered from Midlothian to Austin.
The Odessa native's grave isn't completely unadorned, however. Supporters have decorated the grave with photos, flowers, notes and flags. His grave may seem inauspicious, but it's only temporary. Kyle's family is still planning his gravestone in the Statesman's Meadow enclave of the Texas State Cemetery.
The process to receive a burial plot in the cemetery is, for most, a complicated undertaking. An application for the person must be submitted to the cemetery, then that application is approved by the Texas State Cemetery Committee, a three-member committee appointed by the governor. Jason Walker, director of research for the Texas State Cemetery, says that approval didn't take long for Kyle, whose family applied for his burial plot.
But the planning and creation of a gravestone is what usually takes time.
The state has strict standards for each marker – requiring natural stone from established quarries, bronze that meets specifications from the United States Bureau of Standards for monument use and final go-ahead from the committee. The plots given to notable Texans are free, but families must pay for funeral arrangements and the gravestones.
"We recommend two years, but in this case, the Kyle family was given an extension," Walker says, adding the delay was design-related. "Essentially, what it boils down to is that headstones are closure for a lot of families and, you know, everybody's different. Whenever you look at headstones, a lot of times, that's the final thing. It's the last part of the grieving process."
Walker says Kyle's gravestone will likely be up by the end of the month, will measure six feet tall and about 80 inches wide and will feature a bronze relief of Kyle along with a mention of his military service.
The process for getting in to the Texas State Cemetery is complicated, although since 1997, anyone can apply for a plot there. This video from KUT explores the process in depth: