UT Holds Final Campus Carry Input Session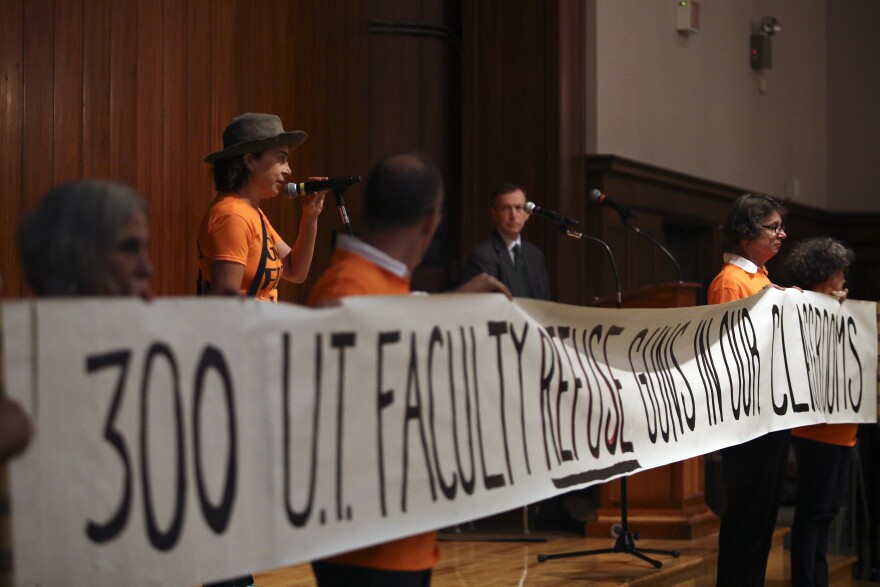 The University of Texas at Austin held its second and final public forum on how the school should implement a new state law that will allow concealed handgun license holders to bring their weapon onto college campuses. But, while efforts to allow weapons on campus has come to prominence in recent years, the push in Texas began over 20 years ago after a mass shooting in Killeen.
As the University of Texas gears up to implement the law, UT faculty have started a petition to keep guns out of their classrooms, and they took the chance Tuesday to voice that opinion. Charters Wynn works in the history department and worries about what happens outside the classroom too, when students come for office hours.
"I'm supposed to not worry that they might shoot me, if I don't give them the answer that they want," he says. "I have all sorts of students who feel unfairly graded. And I think grade inflation will be a major consequence of this."
UT McCombs School of Business lecturer Clint Tuttle told the group he used to have a CHL, and isn't necessarily for or against the new law, but he says the law hasn't helped him be prepared for speaking to 350 students in a lecture hall.
"Why am I enforced to be trained on how to not accept gifts over $5 from outside partners, but I'm not required to be trained in what to do in emergencies?"
There were several speakers in favor of the law, and many of them pointed to last week's shooting in Oregon as a reason to consider allowing guns in classrooms.
"At UCC, guns were not allowed inside campus buildings," said UT student Adam Tuppen. "The shooter knew when he entered that classroom that he was going to be the only armed person in that entire building."
A surprise voice at the forum came from Jerry Patterson, the former Land Commissioner. He also wrote the state's concealed handgun law that passed in 1995. Patterson warned that rules that are too restrictive could anger lawmakers.
"So a gun-free classroom is probably the thing that would put the Legislature over the deep edge, and you would lose all discretion," he said. "That's just something that I can pretty much guarantee."
Patterson's 1995 law was spurred by a shooting at a Luby's restaurant in Killeen in October of 1991, when a gunman drove his truck into the building and fatally shot 23 people. At the time, it was the deadliest shooting in U.S. history.
Patterson says the testimony of survivor Suzanne Hupp, a survivor who lost both her parents that day, was integral to the bill's progress, but, shortly before its final passage, another high profile shooting almost derailed the legislation: the shooting of Selena Quintanilla-Pérez.
The bill was almost derailed, Patterson says, but ultimately passed with bipartisan support. Now, the state has expanded where CHL holders can carry a weapon to college campuses.
Last week's shooting at Umpqua Community College, and the anonymous 4Chan threat directed towards schools in the Austin area, are likely to renew arguments that campus carry could help prevent a similar incident at UT, but a recently published study by Professor Charles Phillips of the Texas A&M School of Public Health contradicts that argument.
Published in May, the study examined whether concealed handgun laws had any effect on crime.
"The consistent result was that, there was no effect of the rate…of changes in the rate at which CHL's were issued and changes in the crime rate," the study concluded.
The UT working group will recommend an implementation policy by early December.