At Austin Schools, It's Reading, Writing, Arithmetic And, Om, Yoga?
Students participate in a yoga class at Cunningham Elementary School in South Austin. Every student at the school is guaranteed a yoga class every other week.
Martin do Nascimento / KUT
Second-grader Navaeh Washington participates in the class, which is meant to help students relax.
Martin do Nascimento / KUT
First-grader Schaeffer stretches.
Martin do Nascimento / KUT
Christabella Diaz rests during yoga class. Counselor Kimberly Skinner says being in a calm environment helps kids feel safe.
Martin do Nascimento / KUT
There's been a shift in Austin schools over the years to focus on skills that don't deal with academics, things like mental health, coping strategies and mindfulness. The philosophy behind the shift is that asking a kid to focus only on academics during the school day is like asking adults not to worry about their personal lives at work.
The Austin Independent School District began focusing on this philosophy – called social and emotional learning (SEL) – six years ago.
Teachers have known for a long time that you can't expect a child to succeed academically if he or she has emotional issues. Kimberly Skinner wanted to help students with those challenges, so she left her job as a teacher three years ago and got a certificate in counseling. Now she's the school counselor at Cunningham Elementary School.
She says Cunningham is a counselor's dream school.
"Teachers really look at the whole child," she says. "Not just – 'We're here. Here's a worksheet; here's what we're doing today.' It was more: What can we do to support students to be the best that they can be?"
Success through breathing
Skinner didn't want to just pull kids out of class when they behaved poorly, so she turned to a personal habit that has helped her with relaxing, mindfulness and awareness: yoga. She implemented a school-wide yoga program for the first time this school year.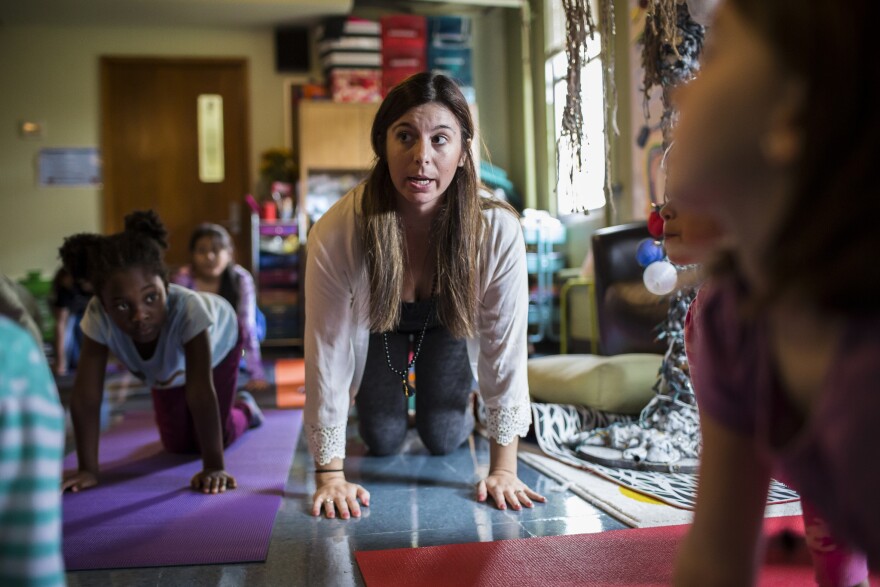 Rather than having an office to meet with kids and parents, Skinner has a makeshift studio. Almost every inch of her classroom floor is covered by rolled-out yoga mats. The lights are dimmed and soft music plays from the computer on a desk in the corner.
Every student at the school is guaranteed a yoga class every other week, but a student can ask for more frequent practice. Skinner says these requests usually come when a kid is dealing with things like a conflict with peers or an issue at home. She says being in a calm environment often helps kids feel safe.
"If I'm not in flight-or-fight response, then I'm going to be more likely to find that awareness and maybe be able to articulate exactly what might be bothering me," she says.
During a lunchtime session, around a dozen students in kindergarten through fifth grade gather in her room for a short practice. At one point, they go to flower pose, lifting their legs up by the knee.
"I am going to touch the very tips of my fingertips, creating a bloom with my fingers," Skinner tells her students. "Then I will lean back slightly, into flower pose."
Fifth-grader Kenzie says she likes coming to these classes because it's nice to spend time in a quiet space. She says yoga has been especially helpful in cases of bullying.
"People were calling me names and then we had yoga the same day," she says. "And then when we came in here I just felt better. … It's kind of hard to explain."
Practice makes perfect
Every school in Austin ISD has some sort of social-emotional learning practice.
"Before we knew about how the brain works and about mindfulness, students who would be having difficulty in the classroom would be traditionally sent to the assistant principal and receive some sort of consequence," says Peter Price, director of social and emotional learning for the district.
Rather than punish students when they act out, the goal is to figure out why they're misbehaving.
This is something the administration at Baldwin Elementary takes seriously. The school hired a full-time counselor to focus on social-emotional learning, rather than an assistant principal, who would typically deal with discipline.
Baldwin also has a mindfulness room, a dedicated space for students to re-calibrate their emotions.
The room is full of things to help kids get out energy or aggression and tools to help express emotions. There's a trampoline, cards with breathing techniques printed on them, and various sand and putty toys. Some of these tools are also in classrooms.
On top of using these tools, teachers and staff at Baldwin do lessons on social skills every day.
In one classroom, a group of fifth-graders gets ready for an overnight field trip. An administrator asks Jianna for a specific social emotional skill she can use during the camping trip.
"Belly breathing," Jianna says. If your parents normally tuck you in at night, she adds, "Just tell yourself: 'It's going to be OK; I'll see them tomorrow.' And just tell it's going OK so you don't get nervous."
Price is impressed with the answer; it's something he wants every student in AISD to master.
"When you have students who can actually verbalize the skills that they've learned and also project how they'll use them in the future," he says, "that's absolutely best practice."