Seven Awesome Things For Sale in Richard Garriott's Auction
There's many ways to describe Richard Garriott de Cayeux: computer gaming pioneer, sometime astronaut and Austin resident. And now you have the chance to bid on items from Garriott's one-of-a-kind collection.
This Saturday, the Austin Auction House is offering over 500 items and collections from Garriott's estate – presumably housed at Britannia Manor, Garriott's ornate home overlooking Lake Austin.
Out of the hundreds of items for sale, KUT News has highlighted seven head-turning pieces up for sale. Here's a look.
Lot #278 - Life-Size Custom Automaton "Duet" by Anatoly Zaya-Ruzo
Starting Price: $12,000
Estimate: $15,000-$30,000
If "It's a Small World" and "Pirates of the Caribbean" were your favorite rides as a child, then you've always wanted to bring a piece of the animatronic magic home, right? This piece features Antoinette, a 16 year-old French noble, and her 13 year-old brother. The two play Baroque duets by 16th and 17th century French and English composers. Can you put a price on everlasting childhood? We think not.
Lot #279 - Full Size Wells Fargo Overland Stage Coach
Starting Price: $10,000
Estimate: $12,000-$20,000
Everyone is going green. We bike, we recycle, we compost. Your brother bought a Prius and your neighbor got something called a Nissan Leaf. But this is Austin – why not go really green with some real horsepower? This fiberglass reproduction is fully loaded: button-upholstered interior seating, leather covered luggage storage and even a manual wheel brake.
Lot #166 - Model of 1903 Konstantin Tsiolokvsky Space Rocket
Starting Price: $300
Estimate: $400-$600
You may have had the Fisher Price Castle growing up – but this is way better. This is a model rocket ship based upon writings of Konstantin Tsiolkovsky, a pioneering advocate of space travel. The lower section of this cut away model houses the propulsion system which lights up; the upper section includes a command and living level, two equipment levels and rocket. It's the prefect combination of cold war tension and youthful romanticism – ages 6 and up.
Lot #244 - Automaton, "Flogging a Dead Horse" by Paul Spooner
Starting Price: $300
Estimate: $400-$600
A piece by renowned mechanical artist Paul Spooner, "Beating a Dead Horse" offers a literal portrayal of the absurdity that the idiom speaks to. If nothing else, it's a great conversation starter for your next party.
Lot #537 - Collection of Decorative Cabinet Items
Starting Price: $30
Estimate: $40-$60
The Garriott auction contains a lot more than big-ticket items. For every piece of art or singing robot, there's twice as many smaller items to populate your shelves. Tchotchke heaven!
Lot #66 - Medieval Castle Siege Catapult Game
Starting Price: $100
Estimate: $150-$250
With all of the entertainment options at our disposal today, we sometimes forget that books used to come on paper, records on vinyl and games on boards. In this game each end of the board has a castle facade with metal covered windows; behind the covers are pictures of various court members. The opposing player catapults metal balls trying to knock the court members and the king out of the windows. Definitely more fun than Grand Theft Auto V.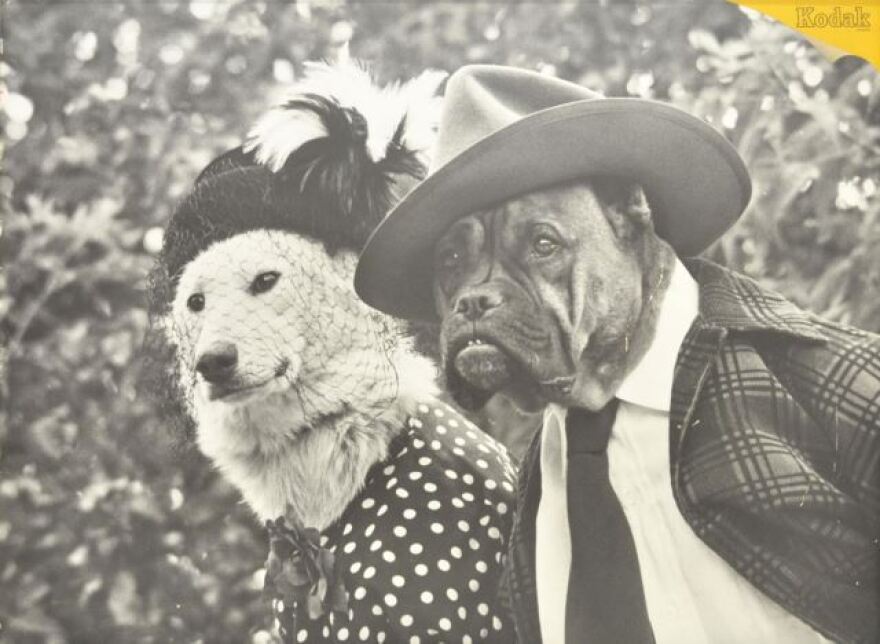 Lot #333 - Vintage Kodak Store Display Advertising Poster "Dogs as Humans"
Starting Price: $100
Estimate: $150-$250
This piece says a great deal. First, that our compulsion to dress our pets has existed longer than the Internet – and also that you can't put a price on cuteness.
The Richard Garriott auction is this Saturday, September 21. You can currently bid online. See more information from Austin Auction Gallery here.