A Holiday Tradition: Blue Genie Art Bazaar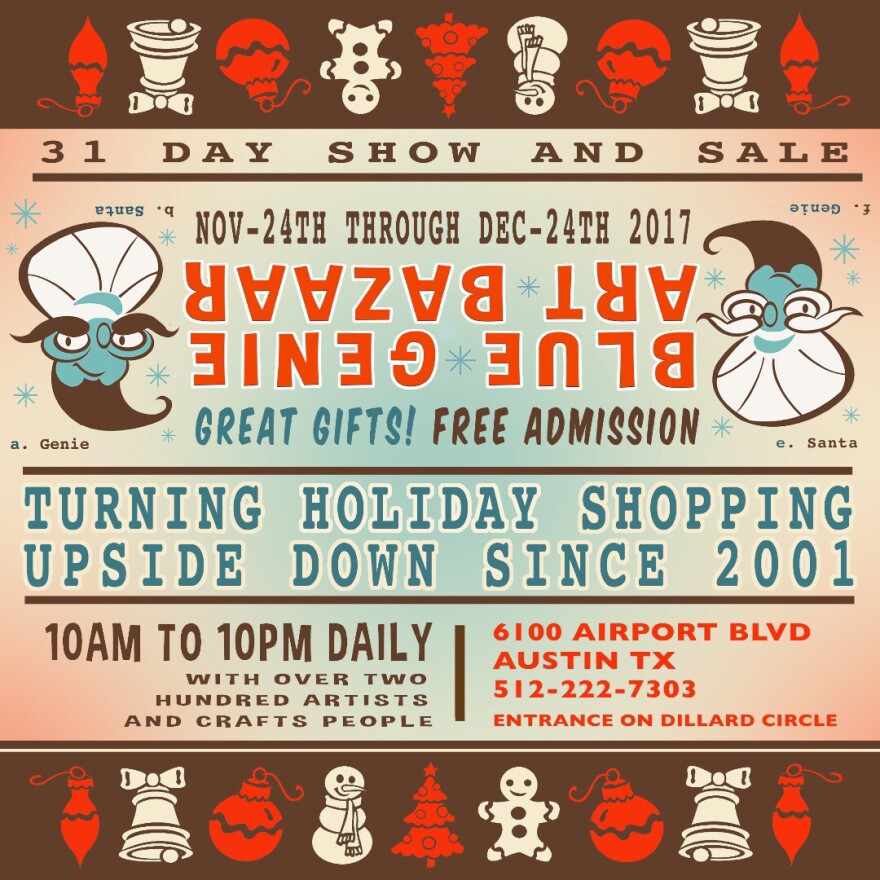 "Oh, from such humble beginnings," says co-founder Kevin Collins about the first-ever Blue Genie Art Bazaar. "We just had some space on the East side ... and our friends in the arts community were always struggling to find spaces to show work. And we had a big space, so we just put some walls together and sort of threw it together like a party."
At the time, the folks at Blue Genie had no long-term plan to keep holding holiday art bazaars, but the first one was a hit, so they did it again, and 16 years later it has become something of an Austin institution.
The bazaar began as a way to help fellow artists show their work, but it has also become an event where many locals do their holiday shopping; the folks at Blue Genie have worked hard to satisfy both of those goals.
"There's a lot of balances that we have to strike between it being a functioning sort of popup store ... and still have the heart of an art show," Collins says.
The show has grown larger and larger over the years, and now features the works of some 200 artists. Many of those artists are Blue Genie veterans, but the bazaar also tries to bring in new artists every year; Collins estimates that around 15 percent of this year's artists are new to the show.
For Collins, hitting upon an artistic endeavor that finds a reliable audience and remains profitable from year to year is a pretty lucky occurrence. "If you pick a life in the arts, the lighting striking like that is pretty rare, so we're pretty grateful," he says. "And we take our role in the arts community pretty seriously. So being able to be a part of that community and help other artists and ... connect an art-buying public with the creative class that this town has is pretty great."
The Blue Genie Art Bazaar runs every day through Christmas Eve.