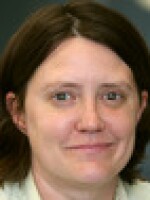 Rhonda Fanning
Producer, The Texas Standard
Rhonda joined KUT in late 2013 as producer for the station's new daily news program, Texas Standard. Rhonda will forever be known as the answer to the trivia question, "Who was the first full-time hire for The Texas Standard?" She's an Iowa native who got her start in public radio at WFSU in Tallahassee, while getting her Master's Degree in Library Science at Florida State University. Prior to joining KUT and The Texas Standard, Rhonda was a producer for Wisconsin Public Radio.
There's a prime viewing area in the Hill Country in the path of both the October and April eclipses.

Programs including passport renewals and citizenship applications could be impacted if House members can't reach an agreement on federal spending.

How to get lower payments and discounts – and why you might not want to refinance into a private loan.

Florida governor Ron DeSantis recently stumped in Eagle Pass, with a heavy focus on border issues.

From municipal races to propositions dealing with policing and criminal justice reform, here's a snapshot of some of the big-ticket items found on ballots around the state.

Lawmakers use last-minute pitches to rectify older legislation, but also do a bit of political grandstanding.

'A lot of times we learn from misfortune. … And this will be an opportunity for us to learn and be better,' says Dan Ashe, president and CEO of the Association of Zoos and Aquariums.

Lingering effects of the pandemic on school districts and a desire to lower property taxes are among the issues on the committee's agenda this session.

Advice on when to document, what's covered by renter's insurance, and what to do if your neighbor's tree has fallen into your yard.

Proposed legislation would end qualified immunity for police officers, create a compensation fund for victims of school shootings, and more.