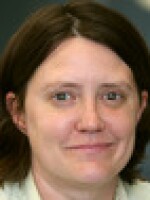 Rhonda Fanning
Producer, The Texas Standard
Rhonda joined KUT in late 2013 as producer for the station's new daily news program, Texas Standard. Rhonda will forever be known as the answer to the trivia question, "Who was the first full-time hire for The Texas Standard?" She's an Iowa native who got her start in public radio at WFSU in Tallahassee, while getting her Master's Degree in Library Science at Florida State University. Prior to joining KUT and The Texas Standard, Rhonda was a producer for Wisconsin Public Radio.
The state's chief epidemiologist says the "steepness" of the increase the cases now is similar to what happened during the early months of the pandemic.

A combination of the delta variant and low vaccination rates in much of Texas means the pandemic is not over. But there are things you can do to stay healthy.

In Oregon, it's Republican lawmakers walking out to protest bills they don't like.

Rice University's Mark Jones says extreme polarization is keeping both sides motivated to stand their ground.

Rep. Jacey Jetton argues threats of mail-in ballot harvesting and improper voter assistance are reasons House Bill 3 and Senate Bill 1 are needed.

The school's president hopes to use the $7 million to offer more opportunities to students looking for a "restart in life".

The vice president visits the border city on Friday. A UT El Paso professor calls it a "hot zone" for problems with the immigration and asylum system.

Ray Benson, the Grammy-winning group's frontman, says the Lone Star State has always embraced him even though his roots are not in Texas.

The variant BV-1 was first identified in a Texas A&M student with mild COVID-19 symptoms.

The governor's executive order bars entities that receive state tax dollars from requiring anyone to verify they've been vaccinated against COVID-19.