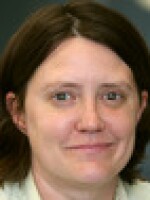 Rhonda Fanning
Producer, The Texas Standard
Rhonda joined KUT in late 2013 as producer for the station's new daily news program, Texas Standard. Rhonda will forever be known as the answer to the trivia question, "Who was the first full-time hire for The Texas Standard?" She's an Iowa native who got her start in public radio at WFSU in Tallahassee, while getting her Master's Degree in Library Science at Florida State University. Prior to joining KUT and The Texas Standard, Rhonda was a producer for Wisconsin Public Radio.
The rail link, which was to connect the U.S. and Mexico via the I-35 corridor, would be rerouted to New Mexico. The proposal comes soon after Gov. Greg Abbott's nine-day tightening of commercial vehicle inspections on the border, which estimates say resulted cost the economy $4.2 billion.`

Six Flags Fiesta Texas' new ride, Dr. Diabolical's Cliffhanger, includes a 95-degree drop.

Some families organize caravans of dozens of cars to trek through Mexico safely.

"She wasn't second fiddle to anyone," says a longtime friend of the pianist and vocalist who performed with her brother for decades.

Amber Briggle is speaking out again after making headlines for inviting the Texas attorney general to dinner in 2016. Texas Child Protective Services is investigating her family.

allas-area Democrat Colin Allred, a member of the House of Foreign Affairs Committee, talks about the impact of U.S. sanctions and export controls on Russia's invasion.

Some banks tout their environmental and social goals, like decreasing their carbon footprints. But they also tell Texas regulators they aren't sidelining energy companies.

With more kids vaccinated and testing in place, one of the bigger hurdles now is keeping enough staff on hand.

The Panhandle region has a higher than average hospitalization rate for COVID-19. The winter holidays pose a concern for increased cases.

An SMU professor, and opponent of the law, says it violates the First Amendment rights of platforms like Facebook and Twitter to block or moderate content that's in violation of their community standards.