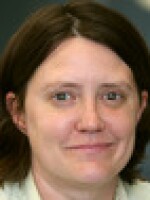 Rhonda Fanning
Producer, The Texas Standard
Rhonda joined KUT in late 2013 as producer for the station's new daily news program, Texas Standard. Rhonda will forever be known as the answer to the trivia question, "Who was the first full-time hire for The Texas Standard?" She's an Iowa native who got her start in public radio at WFSU in Tallahassee, while getting her Master's Degree in Library Science at Florida State University. Prior to joining KUT and The Texas Standard, Rhonda was a producer for Wisconsin Public Radio.
With a lack of concrete results and about a year left in the state's two-year budget cycle, it's unclear whether Texas can afford to continue running the border security initiative in its current form.

The DPS director's comments to USA Today come as seven of the agency's officers have been referred for investigation into their actions on the day of the shooting.

The new shots are aimed at helping to control both the original coronavirus strain and the omicron subvariants BA.4 and BA.5.

In a court filing, current and former employees of the Texas Department of Family and Protective Services say the agency may not be able to continue some of its basic functions.

The action starts with Austin FC vs. Los Angeles FC, a battle of the top two teams in the MLS Western Conference.

To cope with the setback, farmers rely on crop insurance and hope for fall rains to boost next year's harvest.

The recommendations fall into four categories — prevention, preparedness, response and review — and include raising the age requirement to 21 for purchasing AR-15-style weapons.

The rail link, which was to connect the U.S. and Mexico via the I-35 corridor, would be rerouted to New Mexico. The proposal comes soon after Gov. Greg Abbott's nine-day tightening of commercial vehicle inspections on the border, which estimates say resulted cost the economy $4.2 billion.`

Six Flags Fiesta Texas' new ride, Dr. Diabolical's Cliffhanger, includes a 95-degree drop.

Some families organize caravans of dozens of cars to trek through Mexico safely.