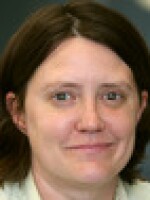 Rhonda Fanning
Producer, The Texas Standard
Rhonda joined KUT in late 2013 as producer for the station's new daily news program, Texas Standard. Rhonda will forever be known as the answer to the trivia question, "Who was the first full-time hire for The Texas Standard?" She's an Iowa native who got her start in public radio at WFSU in Tallahassee, while getting her Master's Degree in Library Science at Florida State University. Prior to joining KUT and The Texas Standard, Rhonda was a producer for Wisconsin Public Radio.
"I'm going to spend the next 405 days telling the truth about Dan Patrick, and he's probably not going to like it," Dowd told the Standard.

Natalicio served as University of Texas at El Paso's president for 31 years, and fought to build a university that reflected its local community.

"There may simply be no enforcement mechanism. Well, that means that the so-called requirement or mandate is more metaphysical in nature than it is actually a kind of legal impediment," says a Texas law expert.

Only a handful of states allow abortions up to 12 weeks into a pregnancy. The decision could pave the way for more legalized abortion across Mexico.

"Giving up is the thing that happens naturally after you lose. I'm not ready to lose yet."

The 2011 Bastrop County Complex fire was the most destructive wildfire in Texas history.

"It has never been our intent, certainly not mine, to defy a governor's order," Superintendent Stephanie Elizalde said. "This was about the context of our current conditions."

With the delta variant of the coronavirus taking hold in Texas, and making younger people sicker than before, a top virus expert says there's no substitute for vaccination.

Supporters of the effort want to boost tourism in Fort Stockton by restoring year-round access to the natural spring.

The state's chief epidemiologist says the "steepness" of the increase the cases now is similar to what happened during the early months of the pandemic.