Austin the 'Nation's Capital of Population Growth' in New Census Data
There's no shortage of news on how rapidly Austin is growing, but a new report puts that expansion in a larger context, dubbing Austin "the nation's capital for population growth."
New U.S. Census data shows much of the nation's growth is concentrated in Texas, with Austin at the epicenter. Austin-area cities San Marcos, Georgetown and Cedar Park are all recognized for high percentage growth.
For the city of Austin, that growth meant 21,000 new residents between 2012 and 2013. State Demographer Lloyd Potter says it doesn't look like that growth will slow down anytime soon.
"You know the projections that we have, which are not resource constrained, certainly suggest that our population in Texas will continue to grow well into the next few decades," Potter says.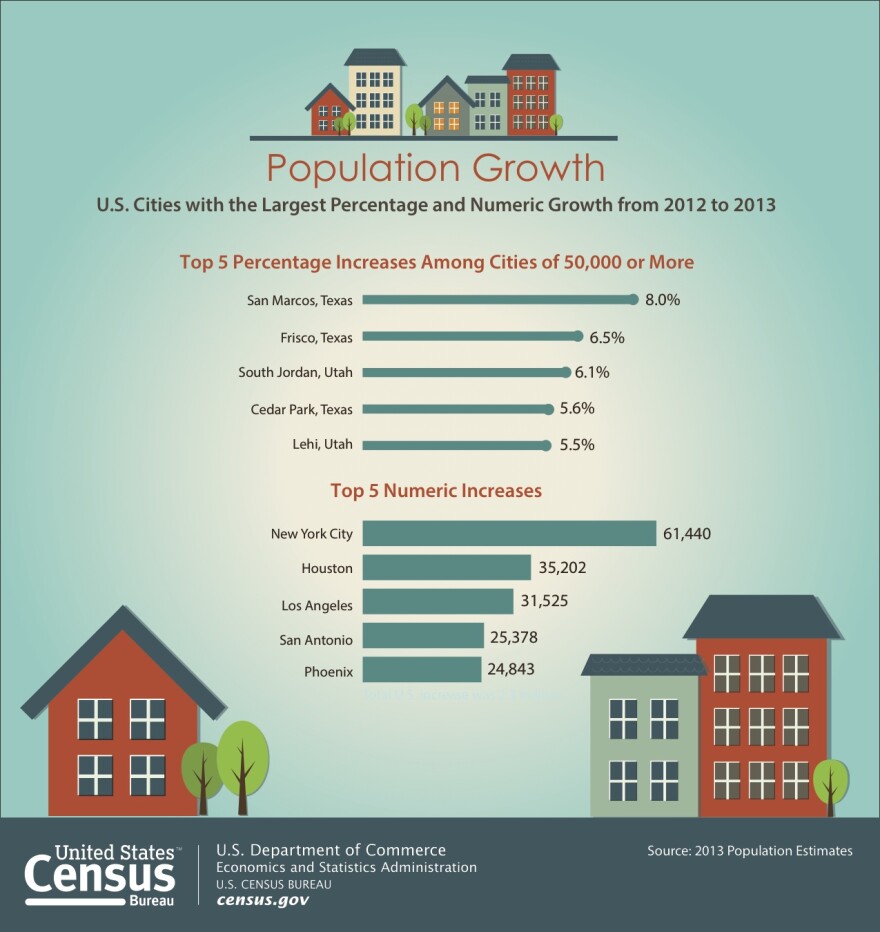 Data also shows it's a misconception that people moving in is the main reason Central Texas is growing. Potter says Texas is also experiencing a "natural increase," meaning more people are being born in the Austin area than are dying here.
"Texas also is a relatively young state," Potter says. "Part of that youngness is a function of the fact that we have a growing Hispanic population. But we also are attracting young people who are non-Hispanic from around the country … who are in the child-bearing years and are contributing to that natural increase as well."
For folks who are moving here, Texas' economic success could be a selling point. The Texas economy is one of the topics of this year's annual State Data Center Conference, taking place in Austin right now.
U.S. Census Bureau economist and conference speaker Andrew Hait says national economic trends are magnified in the Lone Star State. For example, while national employment in the healthcare sector grew approximately 4.5 percent from census to census, Texas saw a 9.7 percent increase.
"Every one of our increases we've seen in these economic data at the national level are amplified when it comes to Texas," Hait says.
Hait also says Texas has been ahead of the national economy for at least ten years. But could the gap between national and state economic growth start to decrease as the nation as a whole recovers from the recession?
"At least in terms of the last ten-year kind of trend, I would say no," Hait says. "The gap between Texas and the rest of the nation is the same if not growing. Now whether that trend will continue is going to be interesting."
As well as the state of Texas is performing, the Austin area economy is even stronger. Hait says data collected from 2007 to 2011 shows the Austin-Round Rock metro had the greatest employment increase in the state.
The latest unemployment numbers for Austin show the rate is below four percent.