Plan Ranks Pools To Pinpoint Where City Needs To Dive In With Repairs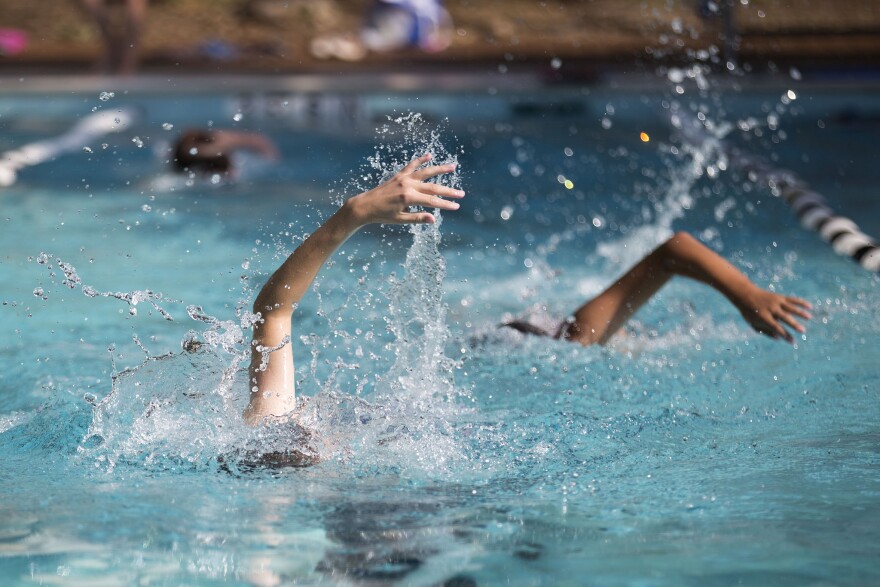 The City of Austin's Parks and Recreation Department will present the latest version of its Aquatics Master Plan to the public in two meetings this week.
The city boasts 51 public pool facilities, including everything from splash pads to Barton Springs pool. The majority of these facilities are neighborhood pools, which offer free admission and swim lessons during summer months. Elisa Dennis brings her daughter Nora to West Enfield pool for swim lessons a couple of times a week.
"We live a little south of Austin, but this is the closest community pool to us," Dennis said. "A community is a great pool to go to. It's free. They have different programs. They have swim teams. Later in the day it opens up for free swim for all."
West Enfield is one of the nicer neighborhood pools in Austin. It has swooping shade screens and a kiddie pool for toddlers to wade in while their older siblings learn to frog kick. It was built in the 1930s and was forced to close in 2013 due to leaks. It was then reconstructed with money from a 2012 bond package and reopened in 2014. Unfortunately, many other neighborhood pools in Austin are now falling into disrepair.
"It is varied, but there are a lot of them that were built in the '30s and '40s," said Cara Welch, public information specialist for the City of Austin Parks and Recreation Department. "So we're dealing with really old infrastructure."
The department's Aquatics Master Plan is meant to help the city decide where to focus its resources. The plan began with a comprehensive assessment of the city's existing pools in 2013. The report found issues with many neighborhood pools, including those due to aging (like pool leakage and deteriorating plumbing fixtures in bathrooms), as well as tripping hazards on pool decks and inadequate accessibility for people with disabilities.
"What the department is currently doing is no longer sustainable. So we're looking at specific sites," Welch said.
The Department of Parks and Recreation used the report to rank which pools to restore and update.
"Things like demographics of the area, potential population growth, how many people are we actually serving, what are the opportunities for programming. Those are some of the more weighted criteria," she said.
Welch said the Aquatics Master Plan will also set standards for each type of pool facility. Neighborhood pools, for example, will all be updated to include lap lanes long enough to host swim meets.
The plan was supposed to be completed by the end of 2016, but was pushed back to ensure the department had time to integrate public feedback, Welch said. Now that the plan is in its final stage, it will be presented to the public for approval in two upcoming meetings.
"Over the past several years we've engaged over 13,000 Austin residents," Welch said. "So the purpose of these public meetings is to ask the public, 'Did we get it right?'"
Public meetings will be held at 10 a.m. Saturday at the A.B. Cantu Pan American Recreation Center and at the Spicewood Springs Library at 6:30 p.m. on Tuesday.