Rundberg's 'Running Man' Looks to Take His Message Beyond Austin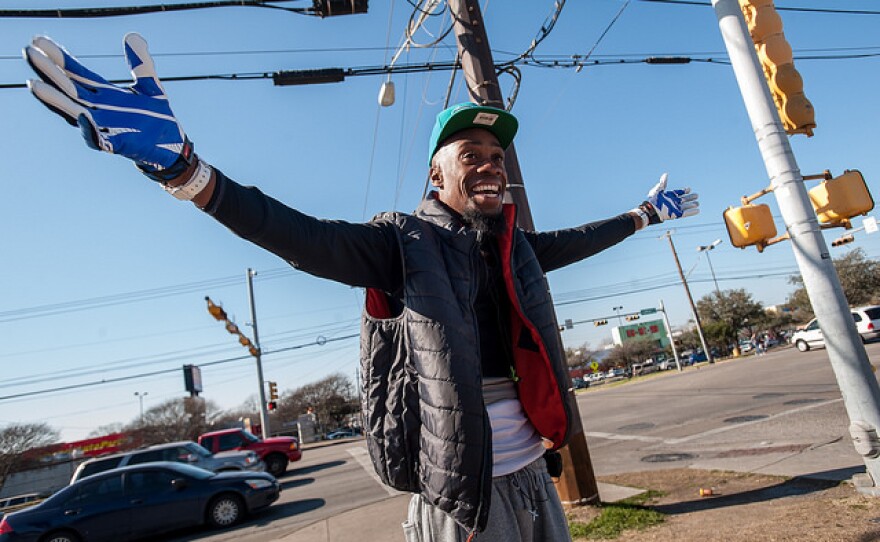 Broderick James says there he wants to take his "Power of Hope" message to all of the "Rundbergs in every city" in Texas.
Jon Shapley for KUT News
James performs on the corner of Rundberg and North Lamar because he wants to serve as a motivational force in a neighborhood plagued by crime. "I want people to look at me and think, 'If he can be happy then so can I.'"
Jon Shapley for KUT News
James says his running started as a way to calm himself down as a teenager. Since then he's continued his habit to find inner peace and motivate others to do the same.
Jon Shapley for KUT News
He's everyone's favorite cardio-loving community activist — a relatively new emissary of Austin weird.
His name is Broderick James, but he's better known as the Rundberg Running Man, a local fixture you can find dancing, running and freestyle rapping on the corner of Lamar and Rundberg on a daily basis. While many Austinites know him for his daily exploits, most people outside the city would simply peg him as a typical fitness freak.
James wants to change that, only there's a problem: money.
The Running Man's corner at Rundberg Lane and North Lamar Boulevard has had well-documented issues with drugs, prostitution and gang activity. It's a high priority area for Austin police, and even garnered a grant from the Department of Justice to combat crime. James employs a different tactic to improve the neighborhood — less boots on the ground, more dancing in the streets. James' routine is a habit he started as a teenager in his hometown of Atlanta. After his 2009 divorce, James found it found it useful therapy, but that it also brought smiles to passersby.
"They see me on the corner and I'm running and I'm dancing and I'm happy in a community that is torn down by a lot of negative connotations," he says. "Seeing someone that's trying to be positive and uplifting is a blessing."
He calls it the "Power of Hope".
While it's not exactly a magic bullet for Rundberg crime, James — and the Austinites who support him — say his brand of outreach are making an impact in the area.
James, however, wants to take that message statewide. He's done this routine outside of Austin before — starting in Atlanta, in Waco after a split from his ex-wife and in Killeen after his stint in the Army. He says those towns all responded well. They were willing to accept his brand of outreach, but Austin made him feel at home.
"I'm like the ghetto Statue of Liberty here," James says. "You go to New York to see the Statue of Liberty. People come to this side of town to see me on this intersection. I use that and constantly try to draw from that to inspire people."
James has drawn a few sponsorships from local businesses, and his "Power of Hope" movement even has backing from The Way to Happiness Foundation, a group that promotes the works of Scientology founder L. Ron Hubbard, which has been cause for criticism of the Running Man on social media. But, James says, he's not a particularly religious person. The partnership formed out of utility: They offered support, he accepted, with the goal of promoting "Power of Hope."
"There are a lot of community organizations that have never reached out to me," he says. "So, you know, I can't really get upset with somebody that's trying to reach out to me. Regardless of what religious organization it is, if they're trying to help our community, what's wrong with that?"
Controversy aside, he says they've got little time to help him get a show on the road.
"They're not really focusing completely in on my stuff. They've all got businesses and other stuff going on," he says. "So, my vision is kind of on the back burner right now and I'm the only person that's really focusing in on what I'm doing."
He'd do it himself but, admittedly, he's been busy on the corner and lacks the business savvy. While he's had a slow start in 2014 — missing just three days in January and six days in February — James hopes to get a tour off the ground this year and "do it right" by raising enough money to buy a van, cover the travel expenses and score some promotional material before arriving in cities.
"Everywhere I've gone, wherever I've done it, it was an instant hit. So, I know wherever I go people will see the message. I'm an Austinite now…we're the home of the weird, and I'll take it all over the world," James says. "I'll make the whole world weird, if it's up to me."
Want to see the Running Man in action? Check out this short 2013 documentary we found on YouTube: