After Police Intervention, Some Businesses Near 12th & Chicon See Losses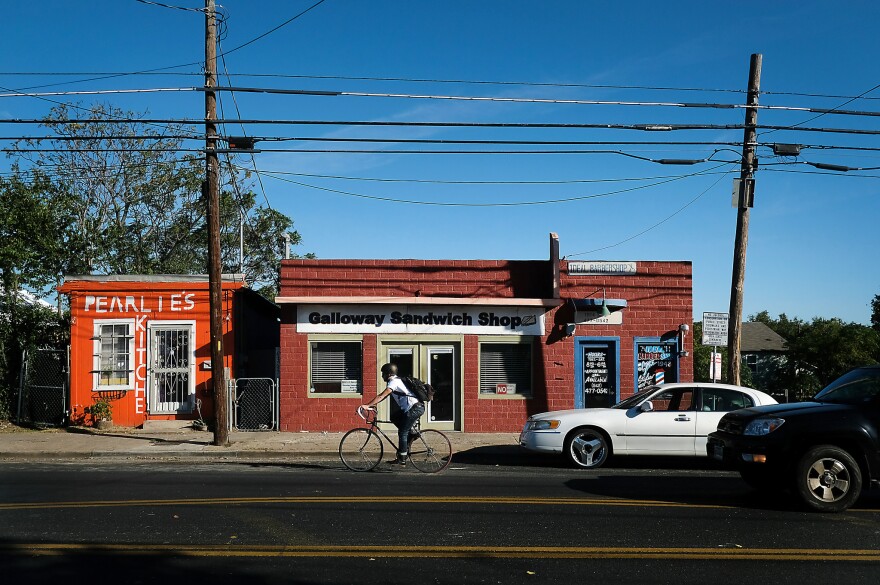 Decades ago, the area around the intersection of 12th and Chicon streets was a central corridor in historically black East Austin, but over the years, drugs became a presence at the corner. Prostitution and other illegal activity happened in broad daylight there, and in 2012, Austin police took a new approach to the problem – what's called a drug market intervention.
APD Sergeant Robert Jones was part of the unit responsible for conducting undercover drug buys. He said the idea was to try and dismantle the drug market itself. Instead of using a blanket approach, officers began dividing the people they arrested into two groups, "A" and "B".
"The A-listers were people that were repeat offenders who had serious criminal records, and those were prosecuted to the fullest extent of the law," Jones said.
"Who can afford a po' boy — a poor boy's sandwich? It's no longer a po' boy. That culture is gone."
The "B" group had the chance to go to rehab and finds jobs through local nonprofits. Over the next two years, Jones said the neighborhood saw a 77 percent reduction in violent crime and 69 percent drop in drug-related arrests. But along with that, other changes have come – fast. Land is getting more valuable, new businesses are popping up and new residents moving in. One East Austin resident, Moses Smith, said that that change can be compared to the rising cost of his favorite sandwich.
"So there's a 12 inch po' boy for $13.99 or $12.99," Smith said. "Who can afford a po' boy, a poor boy's sandwich? It's no longer a po' boy. That culture is gone."
Smith stopped by last month's Return and Discover festival, an event put on by the City of Austin and local merchants to encourage people to walk the block and see what 12th and Chicon has to offer. But he was skeptical.
"I used to drive by this neighborhood, and it was more color around. Let's just say it was black," said Smith, who is black.
Smith doesn't recognize many of the new bars, houses and condo complexes that have cropped up in recent years, but he likes knowing that some familiar businesses have weathered the change.
"[Nubian Queen Lola's], she's still on 11th [Street]," he said. "You still have the barbershops, you still have Galloway Sandwich Shop and everything like that."
So how are some of those businesses faring? Stephen Galloway owns Galloway Sandwich Shop just east of Chicon on 12th Street. The restaurant has been a neighborhood fixture for about 20 years, serving up classic comfort food favorites like chicken and dumplings, meatloaf and mashed potatoes.
Around lunchtime, and the restaurant feels more like walking into someone's living room. Fans are blasting to beat the heat. Customers sit at wooden tables chatting with their neighbors. A big-screen TV plays Jerry Springer. Galloway's got plenty of regular customers, who he calls "neighborhood people," but he said his business has taken a major hit in recent years.
"I'm getting less than half of what I was getting, from a $700 day to a $300 day," he said.
Galloway said the increased police presence around 12th and Chicon has made some of his customers uncomfortable. They complain about being stopped and questioned.
"They said they looked suspicious," Galloway said. "They're just pulling up to get a plate, and they tell them, they look suspicious, why were they here, stuff like that. That kind of killed my business there."
Sergeant Jones with APD said he hadn't heard those complaints, and neighbors have been happy about the officers' presence, but Stephen Galloway sees another side to the change. He's getting by, he said, but he can't afford to lower his prices any more to attract customers, and he's not the only business owner who's seen losses.
Just down 12th Street, Delphina Perez owns the Mustang Paint and Body Shop. After being in the business for more than 20 years, Perez can tell what's wrong with your car just by listening to it, and she does it in style, sporting bright pink lipstick and blue eyeliner. Perez describes what 12th and Chicon used to look like when she opened in the 80s, with prostitution and drug deals taking place in the open.
"It was a lot of people, a lot of women, and the women aren't so bad, but it's the men, the men that run the women, and then plus the dope dealing," Perez said. "Man, that dope dealing was bad there for a while. We couldn't get rid of them. But now, it's ok because you don't have any traffic of any sorts."
Perez wasn't too keen on having crime around her shop, but the influx of people undoubtedly brought in business.
"The men, the men that did the drugs, yeah, because they had cars that they wanted painted, they wanted repaired. So yes, and they had money, and then we could turn around the work real fast, so they liked that," she said.
But Perez said business is no longer booming as new residents move into the neighborhood.
"The people that live around — that have bought in here — well, they take their business probably west side or to the dealerships, and there's a lot of new cars," she said. "When you have a lot of new cars, you're not going to have any business for five or six years, because you know, there's nothing wrong with a new car."
Since her busiest years, Perez says she's seen her profits cut almost in half, but she says she has it easier than some other businesses because she owns her property.
"The utilities are still reasonable, and basically that's all I have," she said. "I don't have anything else. I don't pay rent."
Perez believes in rolling with the changes. She said the community was in need of some upgrades, and overall, she thinks the drop in crime is better for the neighborhood.