What Would Trump's Coal Bailout Look Like In Texas?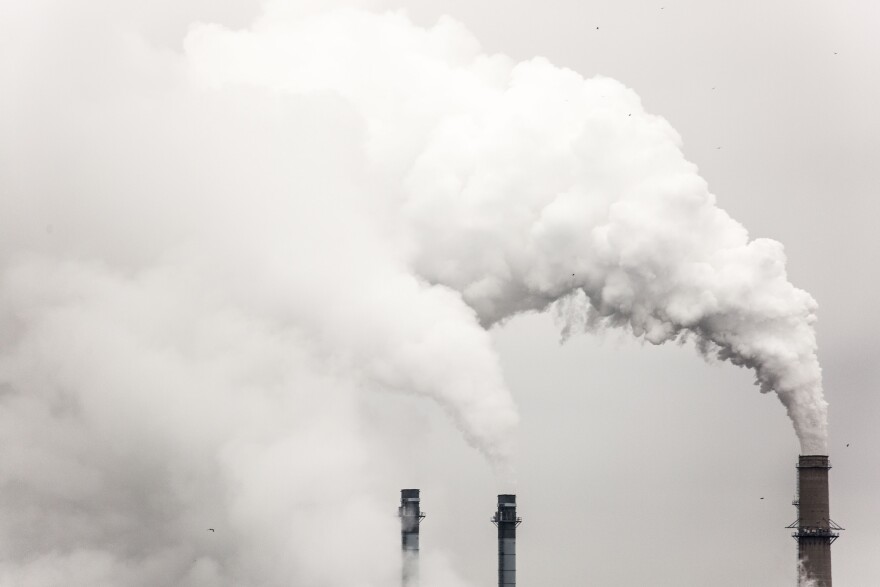 Energy Secretary Rick Perry said this week that the Department of Energy is working on a plan to subsidize coal and nuclear power in the name of national security. While the details are scarce, the idea's been the subject of speculation and criticism from energy experts, environmentalists and grid operators.
So what could it mean for the country's leading energy producer?
Grid Security
The Trump administration argues nuclear and coal plants' ability to store fuel on-site is a benefit in the event of a disaster, but experiences in Texas prove otherwise.
Having fuel on site "does not necessarily mean that we will be able to use that fuel," says Joshua Rhodes, a research associate at UT Austin's Energy Institute.
"We actually saw during [Hurricane] Harvey that some piles of coal got so wet they were no longer able to be used," he says. "We've seen coal piles freeze over."
Rhodes says the security benefits of these power plants are also reduced by the fact that the transmission lines that carry power from them are still vulnerable to failure, as well.
Texas Coal
Here in Texas a few coal plants recently shuttered, and two others appear to be in trouble.
While the DOE proposal suggests that already shuttered coal and nuclear plants would not be revived under the proposal, those Texas plants at risk of closing could benefit.
If that's the case, Michael Maher, a longtime ExxonMobil analyst who now works at Rice University's Center for Energy Studies, says that could upend the entire market.
"It really changes the rules on which investments have been made," he says, "especially renewables near-term. But any new gas facilities and existing gas facilities too."
Because of that possible short-term disruption, oil and gas interests have joined wind, solar and environmental groups in opposing the plan.
But, Maher says, the proposal wouldn't do much for coal's long-term prospects.
"New coal plants are 30- or 40-year investments," Maher says. "People are going to realize that there's going to come an administration that's not going to subsidize coal down the road and they're left with an uneconomic asset. So I don't see how this can work longer term."
The proposal would likely do little to help Texas' small coal industry and could hurt the state's economy.
"The kind of coal we have in Texas is a really poor quality coal," Rhodes says. "We produce a significant portion of the U.S. natural gas supply, so if we subsidize things like coal in other regions that might hurt our economy here in Texas."
Grid Reliability
Some proponents of the plan argue it could lessen the risks of rolling blackouts.
"A diversified fleet is a good idea," says Brynne Kelly, a New York-based energy analyst. She says that Texas' electric-generation capacity may be improved if more coal plants were back online.
But that's not the way the Texas grid works, says Samantha Gross, an analyst at the Brookings Institution. Gross says regulators already have the power to reject coal plant closures if they put grid reliability at risk and, by propping up coal, the government risks pushing other, more economic generators offline.
Climate And Cost
Until recently, the debate over coal, gas and renewable energy has been viewed in terms of financial cost and societal benefit. Proponents of renewable energy say it's necessary to get off coal power to reduce greenhouse gas emissions; opponents say that transition would raise electricity rates.
Analysts say the DOE proposal may provide the worst of both worlds.
"This is actually an action that would increase emissions and increase costs," Gross says. "It's running both of those actions the wrong direction."
Rhodes says the bailouts don't make sense on an economic level.
"The reason these [power plants] need bailouts and subsidies is because they're non-economic," he says. "They're non-economic because of they're a more expensive alternatives. So, if we mandate that these higher cost units run over their cheaper alternatives, then prices just have to go up."