Patio, Parking or 'Parklet?' Council Considers Urban Spot Conversions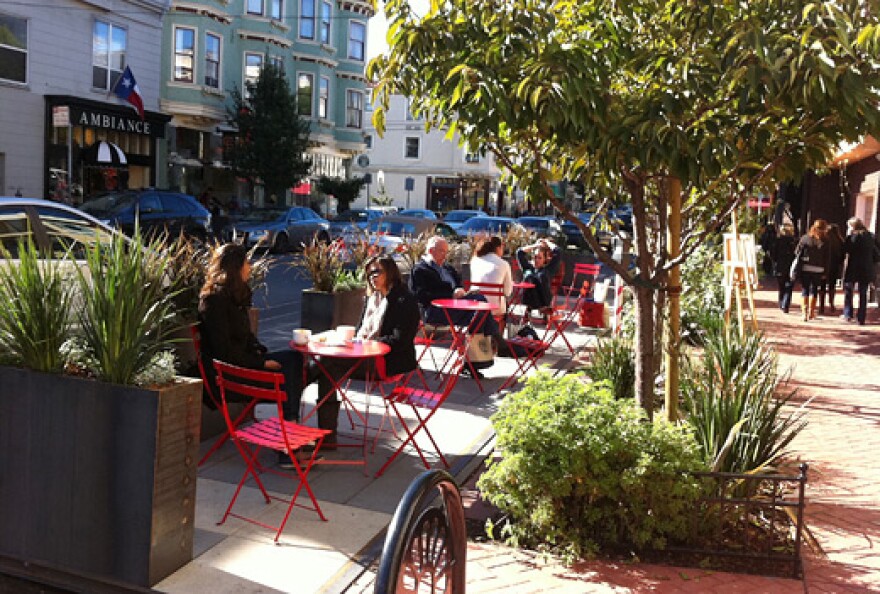 Among the items on the Austin City Council's work session this morning was a pilot program allowing Royal Blue Grocery to convert two parking spaces outside its doors on Congress Avenue into a patio.
Or is it more of a "parklet?"
"If you google 'parklets,' you'll find a number of examples from around the country," said council member Chris Riley.
Parklets are prevalent in San Francisco. The city's Planning Department has loads of information online pertaining to completed parklets, resources for would-be parklet builders, and a FAQ about parklets.
But "that's a somewhat different situation," Riley noted.
The San Francisco guidelines state "a parklet is a public space that can be used by everyone: neighbors, residents of San Francisco and tourists. It is not private property, and it is not limited to customers of the surrounding businesses."
However, the council resolution characterizes the pilot program as "an extension of retail use" and a "street patio." And this being a pilot, questions persist.
One area of discussion concerned the impact the patio would have on neighboring businesses. Another questioned the effect of removing on-street parking on Congress. Chris Riley noted that with the rerouting of Capital Metro's airport shuttle from Seventh St., additional parking had opened up – so even with the conversion, the area would experience a gain in parking spaces.
Most council members voiced support for the pilot program, which they will vote on at their meeting this Thursday, March 22.
Below, check out a Flickr slideshow of San Francisco's numerous parklets.