Austin ISD Adopts Broad Sex Ed Standards That Start Lessons In Earlier Grades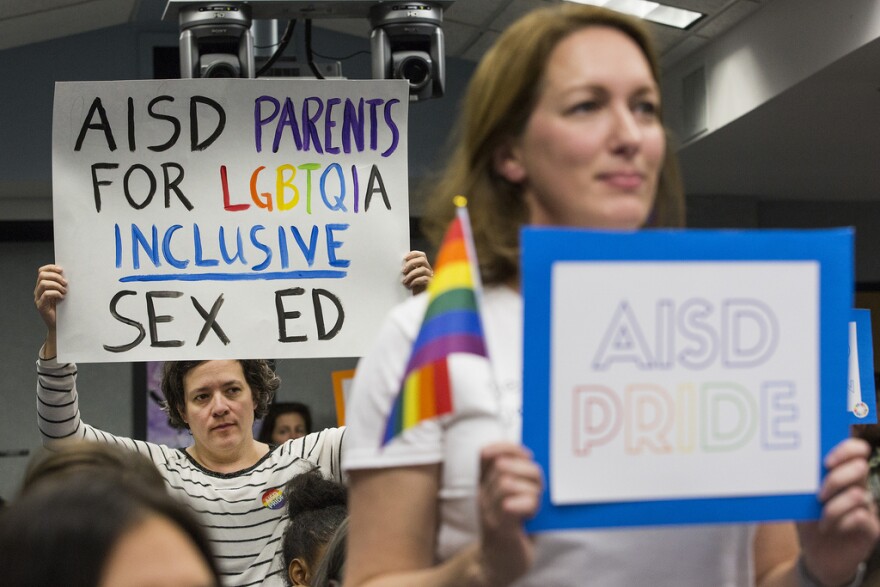 The Austin Independent School District's board of trustees on Monday approved new human sexuality and responsibility standards for third through eighth grades. This is the first update to the standards in 12 years.
The board voted unanimously to adopt the National Sexual Education Standards, which are written by a group of nonprofits that advocate for comprehensive sex education.
District administration will now write a curriculum based on the standards. AISD said it hopes to bring the curriculum to the board for approval by June and wants it ready by August so parents can decide whether their children will participate.
RELATED | Austin ISD Board Approves Process To Close Some Schools By August 2020
Here are the biggest changes proposed to AISD's current human sexuality curriculum: Students in grades three through five will learn anatomy and physiology. Third-graders will learn about puberty and adolescent development. Fifth-graders will learn about sexually transmitted diseases, including HIV.
The new standards include lessons on healthy relationships between kids and with adults. Other topics include identity, pregnancy and reproduction, and personal safety.
Candace Pruett, who has three children in elementary school, said she believes teaching lessons on sexual education at an earlier age will encourage healthy relationships and appropriate social interaction.
"Very importantly for my boys," she told the board before the vote, "I want them to understand consent, I want them to understand their bodies and know what healthy relationships look like as they move through school."
But others, including Nicole Hudgens with Texas Values, a conservative religious group, said they opposed the standards. She told the board the district survey on the lessons didn't ask the right questions.
"They were asked when condom demonstrations should take place, they were asked when emergency contraception should be discussed, when the LGBT should be discussed," she said. "Not if, not how, and not what."
The school board had heard from the community that these conversations may be happening too early.
Lisa Goodnow, associate superintendent of academics and social and emotional learning, said students need to learn about anatomy and healthy relationships at an early age.
"It is more difficult for children to disclose and clarify sexual abuse if they don't know the words or the specific parts of their body to report," she said at a meeting last week. "The American Academy of Pediatrics (AAP) has stated that when children have medically accurate terminology for their anatomy, the risk to sexual abuse is minimized and … [children who are abused] are more likely to report, and then the perpetrator is more likely to be prosecuted."
The school district held meetings in November to get parent input and sent a survey to parents, staff and community members. The survey, which asked what topics should be taught and in what grades, got nearly 6,000 responses.
The district says as students move from one grade to the next, the lessons will become more detailed. In middle school, the district will also add new topics: gender identity and sexual orientation, emergency contraception, how social media plays into relationships, and sexual abuse and harassment. The district will write lessons all schools must follow.
Parents will get notice of the lessons and can opt their children out of individual ones or the entire curriculum. Those students will complete other social-emotional learning classes.
Once the curriculum is written, the board must give final approval. The district hopes to implement these lessons in May 2020.
This post has been updated.
Correction: A previous version of this post incorrectly said the cirriculum the district develops is only a guideline and schools will be able to develop their own lessons.