Austin's Turkish community organizes relief efforts for earthquake victims
Kadir Akkus remembers the exact moment he learned his home country of Turkey and neighboring Syria had been struck by a 7.8 magnitude earthquake last week.
"I was driving back to Austin from Dallas, and I was checking Twitter," he said. "Then I saw the news, and I said, 'This is huge.'"
He immediately called his parents, who still live in Turkey, to make sure they were okay.
After learning they were, Akkus, who serves as the executive director of a local Turkish organization called Raindrop Foundation Central Texas, got to work checking in on other local community members with family in Turkey.
"Our friend called me, and he said, 'I couldn't reach my parents in Turkey. What do I do?'" Akkus said.
He said his friend eventually learned through other family members in Turkey that his parents' house had collapsed in the quake — trapping them alive underneath the rubble.
Akkus said he and his friend stayed up for two days trying to get in contact with officials in Turkey to relay information to rescue workers.
"I gave them information ... you know, the house address, who are in trouble, building, their names and information," Akkus said.
But it was too late.
Late last week, Akkus said his friend learned that his parents had died while awaiting rescue. It was confirmed Friday when their bodies were finally pulled out from underneath the rubble.
Akkus said his friend's story is not uncommon.
More than 33,000 people in Turkey and Syria have been killed by the earthquake and its aftershocks. Experts expect that number to rise.
Akkus said he knows of about 20 families in Central Texas who have family members affected by the earthquake in Turkey.
"Pretty much all of them lost their houses," he said. "Some of them lost their legs."
Akkus said local community members have offered up 12 housing accommodations in Turkey for earthquake victims to stay.
"Now, housing is a very big issue in Turkey," he said. "So if we can solve housing problems, other problems will be solved very easily."
Akkus said his organization is working with other branches of the Raindrop Foundation in the U.S. and aid workers on the ground in Turkey to match earthquake victims with housing accommodations.
"We have branches in different cities in Texas. We have a branch in Dallas, in Houston, in San Antonio ... El Paso, Lubbock, Odessa. Also, in other states," he said. "We are trying to reach as many people as much as we can."
The Raindrop Foundation Central Texas also spent last week collecting donations to send to the Turkish consulate in Houston. From there, the donations will be flown by officials to Turkey.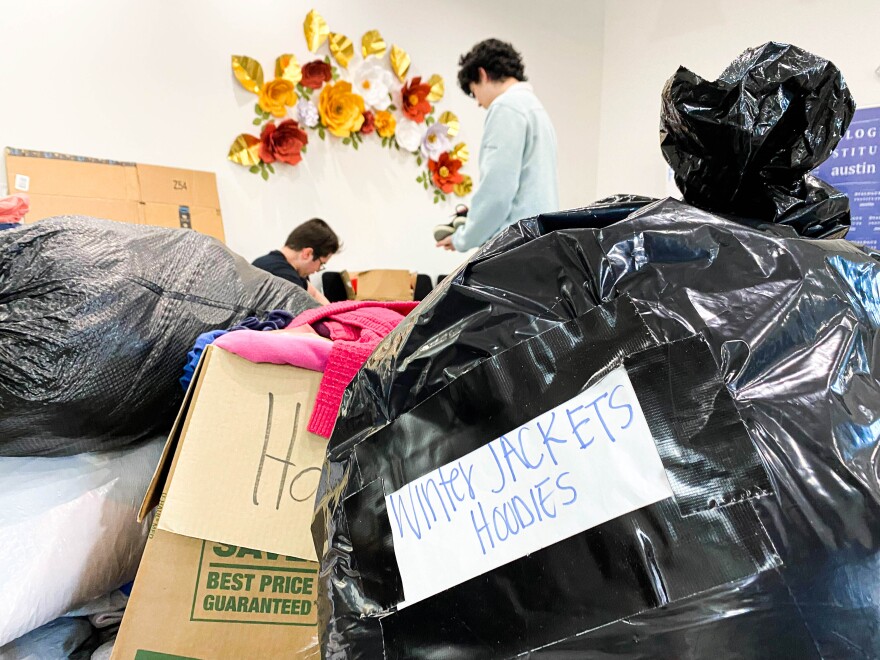 Akkus' 17-year-old daughter, Ahsen, spearheaded the effort.
"I told my dad, I was like, 'We need to do something,'" she said.
The high school senior put together a flier on social media asking for donations, such as food and clothing, for earthquake victims in Turkey. She was not prepared for the response.
The organization received so many donations that Ahsen's father had to pull her and her friends out of school early last Friday in order to sort through all of the items and prepare them for the journey to Turkey.
She said the community's gesture brought her to tears.
"We're really close as a community. If it weren't for our community, we could never have done something like this," Ahsen said. "I'm really thankful for them."
How to get involved
The Raindrop Foundation Central Texas has partnered with New Jersey-based Embrace Relief to raise money to meet the urgent needs of earthquake victims in southern Turkey.
You can learn more about that campaign here.
The foundation will also be holding a public, interfaith vigil for earthquake victims in Turkey and Syria on Monday at 6:30 p.m. at St. Andrew's Presbyterian Church in Austin.
For more information about the vigil, go here.