Open Mic Nights Return to the Cactus Cafe
Kacy Crowley Hosts Music Series
AUSTIN, Texas – March 29, 2017 – Up-and-coming artists looking to hone their performance skills and connect with the Austin music community can participate in the Cactus Cafe's open mic nights curated and hosted by singer-songwriter Kacy Crowley.
The open mic night series kicks off Monday, April 3. Artist sign-ups start at 7:30 p.m., followed by the show at 8 p.m. Entry is free.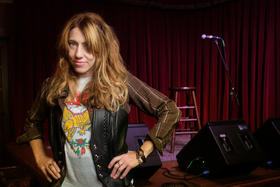 "After years of trying to figure out on how to keep the tradition of the Cactus open mic alive, we tabled it until we found something special," said Cactus Cafe manager Matt Munoz. "Following the demise of the venue where Kacy had built up an open mic night, we invited her to bring her successful series to the Cactus."
Open mic nights were a longstanding tradition at the Cactus Cafe until three years ago. Many well-known artists got their start at Cactus open mic nights, including Betty Soo, Ruthie Foster and Kacy Crowely.
"Open Mic Nights are a huge part of my history. It was there that I met many of the people I still work with today," said Crowley. "It was a place to find a community of my peers at that time, a place to try new songs, to make friends in a new city, to see what everyone else was doing to try and get gigs and make their careers happen.
"It's been a really beautiful thing in my life to be hosting that for others. At first I felt like I was "giving back" to my community but the truth is that I think I'm getting more out of it than ever. My open mic'ers are my biggest inspiration! I can't wait for Mondays!"
About the Cactus Cafe
A small venue tucked within the University of Texas campus, the Cactus Cafe has been one of Austin's great acoustic music traditions – a true "listening room" – since 1979. Over the years, the Cactus Cafe has earned a national reputation by showcasing top local, regional, national and international acoustic music acts, while identifying and nurturing new talent. Operated at a non-profit organization, the Cactus Cafe is programmed by public radio stations KUT 90.5 and KUTX 98.9. Learn more at CactusCafe.org.
###
Contact: Erin Geisler (512) 475-8071