Jacob's Well has stopped flowing again. That's a problem for western Hays County.
Jacob's Well, a beloved natural swimming hole in the Wimberley Valley, has stopped flowing for the fifth time in its recorded history.
Parks department officials said the lack of flow is a result of the ongoing drought and increased levels of groundwater pumping. The news comes at a time when Central Texas is dealing with one of the hottest and driest summers on record and bracing for even more heat and drought conditions in the coming months.
"This is really concerning," said Jay Taylor, the lead parks specialist with the Hays County Parks Department. "If you watch the weather, they're not predicting any rainfall in the near future. In fact, they're predicting this heat bubble ... [will] extend further out into August and maybe even September right now."
The well also stopped flowing briefly last year, for what officials said was the fourth time in its recorded history.
Earlier this summer, Hays County suspended swimming at Jacob's Well, citing threats of bacteria and other pollutants, as well as poor visibility conditions. Swimming remains off limits for the foreseeable future, but the park is still open daily for hiking.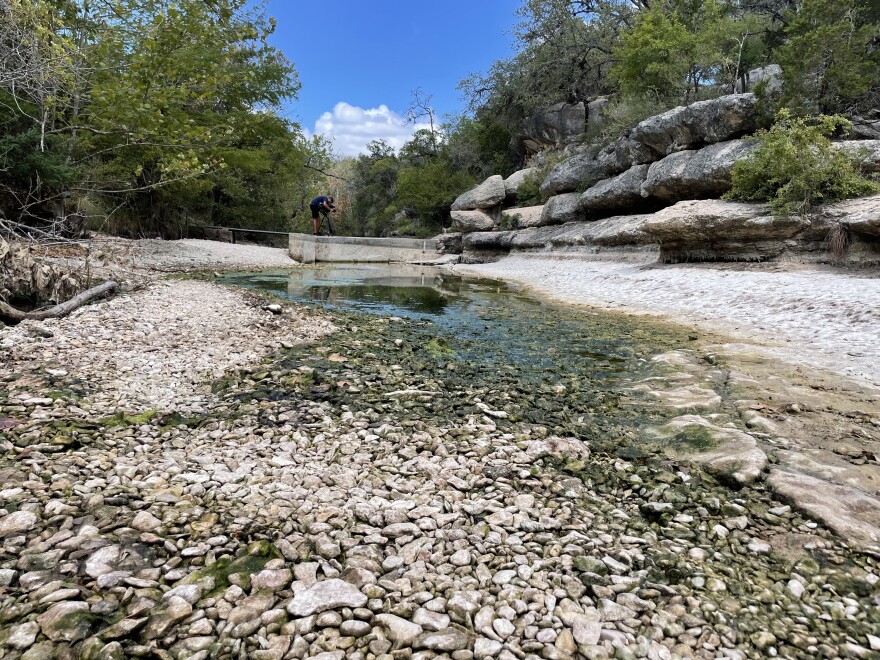 But Jacob's Well is used for much more than just swimming. Robin Gary, the managing director of the Wimberley Valley Watershed Association, said the lack of flow at Jacob's Well signals groundwater levels are low in the area.
"They're definitely declining," Gary said. "[And] western Hays County is very groundwater-dependent. In fact, there's no surface water supplies in western Hays County."
Gary said that the lack of groundwater is a concern for everyone. Whether people get their water from a private well or from a water utility, everyone depends on it.
Jacob's Well is also the headwaters for Cypress Creek, which flows through downtown Wimberley. Locals there have warned that Jacob's Well drying up could have major impacts on the local economy, which is dependent on the tourism that these natural resources bring.
"We're losing a lot of fish, vegetation, trees, wildlife, things like that, because the water levels are pretty much nonexistent starting at Jacob's Well," Taylor said. "And it's just going to get worse as you go down the creek."
Taylor said that right now the county is trying to educate people on water conservation. The Hays Trinity Groundwater Conservation District is asking people and local water utilities to conserve water right now.
"During times of drought, people like to overwater their plants, trees, gardens, which is the exact opposite of what you should be doing," he said. "Unfortunately, you have to let your lawns go brown or whatever."
He said, at this point, it's going to take a lot more than 1 or 2 inches of rain to replenish the aquifer, and ultimately the well.
"We are going to need some sort of flooding, minor flooding situation, flash flooding, in order to sustain the flow coming from Jacob's Well," he said. "The Trinity Aquifer just needs a lot of water in it right now. And a normal rain ... isn't going to cut it. It's going to need to be significant."
If you found this reporting valuable, please consider
making a donation
to support it. Your gift pays for everything you find on KUT.org. Thanks for donating today.