H-E-B's new store opens in Georgetown, featuring a two-story BBQ restaurant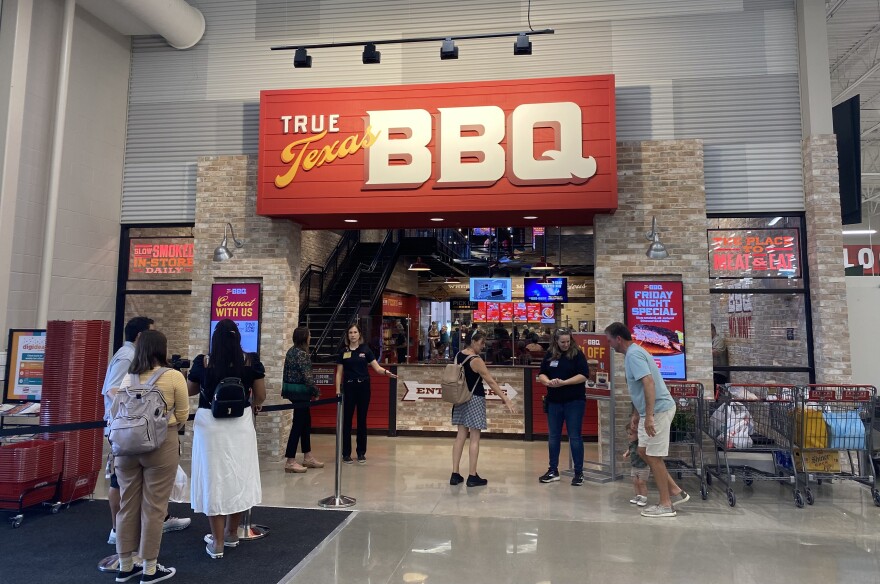 Texas grocery giant H-E-B opened a new, two-story supermarket in Georgetown Wednesday. The store is the city's first multilevel H-E-B.
The new 121,000-square-foot store is located at 1010 W. University Ave. in the Wolf Lakes Village neighborhood, replacing an older 67,000-square-foot H-E-B across Interstate 35.
It offers an expanded product selection, as well as a two-story True Texas BBQ restaurant with full-service bar. Texas True BBQ was named the best barbecue chain in the state by Texas Monthly in 2019.
"I feel like Georgetown was due for a new store for a long time," H-E-B partner Jasmin Hernandez told KUT. "Now that it is bigger, we have more aisles, and that means more product that we haven't carried before," she said.
Hernandez said the new store also has a merchandise shop, with everything from H-E-B baby onesies and badges to blankets and socks. "Just merch for people who are real Texans," Hernandez said.
Jessica Monik drove all the way from Hutto to visit the store on its opening day. A former H-E-B employee, Monik said she is proud to support the grocery chain.
"They've always been super helpful to the community. I was a team member when I was younger. That was one of my first jobs — in the photo lab," she said. "But yeah, you know, anytime there's a disaster, H-E-B steps in and does a great job of helping the community — so I really appreciate that."
H-E-B donated a total of $20,000 with gifts of $4,000 each to The Caring Place, The Boys & Girls Club of Georgetown, Georgetown Backpack Buddies, Brookwood in Georgetown and Georgetown ISD Education Foundation in celebration of the new store's grand opening.
H-E-B's new Wolf Lakes Village store is open daily from 6 a.m. to 11 p.m.