Colorado River Swamps La Grange Motel Housing Harvey Evacuees
Jay Jajal says he began knocking on doors at 5:30 a.m. Monday.
"There's flooding here, so you need to start moving your vehicle up high and start moving somewhere else," he says he told guests at the motel he owns in La Grange, Texas, about an hour east of Austin.
The Cottonwood Inn Motel was under several feet of water Monday after the Colorado River overflowed its banks. In a room on the motel's first floor, water was high enough to soak the corners of the dark peach comforters.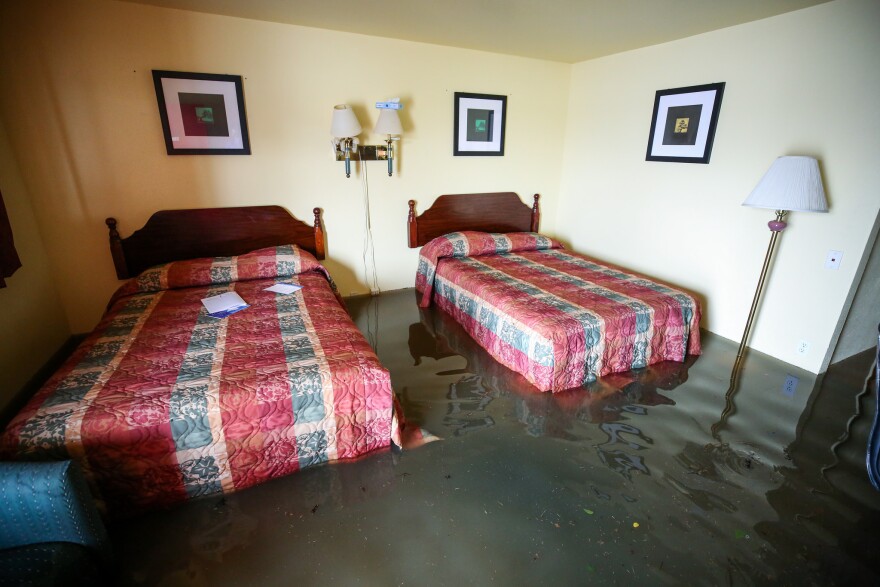 "Last night, we see the creek almost get full," Jajal says. "And then last night we see it filling up, filling up."
Many of the guests at Jajal's motel were hurricane evacuees from coastal towns, like Rockport and Corpus Christi. After they were woken, Jajal says, guests sat in their cars in the nearby Walmart parking lot until businesses in the small town began to open.
According to La Grange Mayor Janet Moerbe, roughly 130 homes and 15 businesses were underwater Monday.
"We've never had anything like this before," she says. By late afternoon, the water had begun to recede, but the National Weather Service says La Grange could get more rain Tuesday.